Iraqi violinist gives concert at Mosul shrine, where music was banned under Islamic State
21 April 2017, 11:40 | Updated: 21 May 2017, 20:09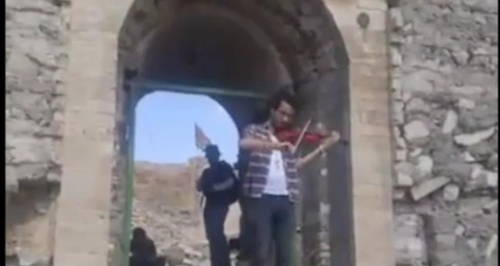 Violinist Ameen Mukdad lived in the Iraqi city of Mosul under Islamic State rule for two and a half years – until the militants raided his house and confiscated his instruments.
Picture: Reuters/Muhammad Hamed
Ameen is an Iraqi violinist who escaped to Baghdad after Islamic State took his instruments and threatened to punish him.
Now, he's returned to the city to perform an impromptu concert at the Tomb of Jonah, or Mosque of the Prophet Younis.
He advertised the concert on social media and performed to an audience of around 20, along with a clarinettist.
The shrine was largely destroyed by the militants in 2014 and the group still control parts of the city.
Here's his performance in the ruins of the Mosque of the Prophet Younis or the Tomb of Jonah
Ameen told Reuters: "I want to take the opportunity to send a message to the world and send a strike against terrorism and all ideologies which restrict freedom that music is a beautiful thing. Everyone who opposes music is ugly."
He told the news agency that he chose the site because it symbolises unity.
Music and entertainment was banned under Islamic State rule but while living in the city Ameen continued to play quietly, indoors with windows closed. A fellow musician told Reuters:
"I stopped playing because I was too afraid but Ameen kept goin. We tried persuading him that he could get easily killed, but he kept playing."
The footage was posted on Facebook by Mohammed Al-Zakaria who describes himself as 'An Iraqi activist and writer'.