This guy filmed himself playing the violin while surfing because why not?
29 December 2015, 12:11 | Updated: 29 December 2015, 12:20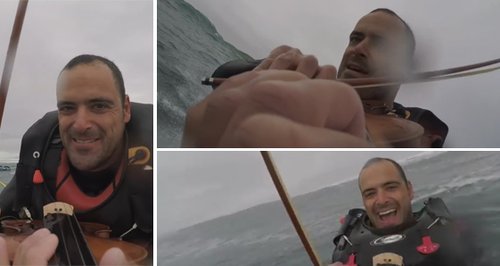 Professional violinist and surfer Nuno Santos has filmed a jaw-dropping video of himself surfing while playing the violin as part of an extreme art project.
Portuguese violinist Nuno Santos has combined his career as a violinist with his passion for surfing in a pretty astonishing video filmed on a Go-Pro.
It's part of an extreme art project and Santos has so far played on the edge of an active volcano in Ecuador and in the Amazon rainforest. For this video, uploaded on Christmas Eve, he chose to play a suitably festive tune.
He told ABC in Australia that he had lost several violins and bows during the project. "Since the beginning, the concept has always been to challenge myself physically and mentally as a way to know myself better and become a better person."
And you thought it was enough just to nail that tricky passage you've been working on for weeks…