Watch a special concert conducted by Gustavo Dudamel
6 December 2017, 16:47 | Updated: 11 December 2017, 09:47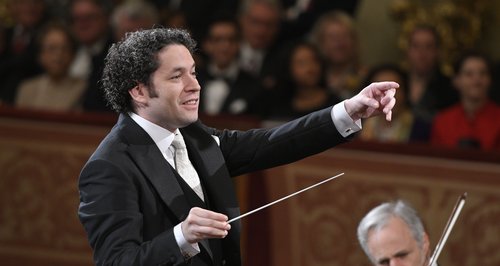 The famous conductor performed Mozart and Richard Strauss with the Royal Stockholm Philharmonic Orchestra. And you can watch the whole thing right here…
Last Friday, we live-streamed a special concert conducted by the iconic conductor Gustavo Dudamel.And you can watch the whole thing right here!
The programme paired Mozart's 'Jupiter' Symphony with Strauss's Also sprach Zarathustra.
The orchestra was the Royal Stockholm Philharmonic and the concert was to celebrate the recipients of the 2016 Nobel Prize. Find out more at medici.tv.
Watch the whole concert here
Dudamel said:
"I am deeply honoured to perform on this remarkable occasion," says Gustavo. "Music teaches more than just notes. For anyone who learns to read music, play an instrument, or sing, there is a doorway to understanding all kinds of related disciplines.
"Music is a branch of applied physics, with mathematics measuring sound waves through space. Chemistry is also related; scientists are still trying to discover the secret ingredients in the varnish of Stradivari's violins! Music and literature are closely intertwined. The great conductor Nikolaus Harnoncourt used to talk about 'rhetoric' in musical interpretation. How do we unlock the inner poetry and implicit meanings in a composer's score, find the text's hidden story?"
A "Nobel Day of Music" on 8th December was also been announced. In collaboration with Dudamel, the Nobel Foundation and El Sistema Sweden, the special day gave thousands of children the chance to be involved in music making and introduced a new "Orchestra of the Future"