Dick Van Dyke singing 'Chitty Chitty Bang Bang' in a diner will put an enormous smile on your face
19 August 2019, 12:34 | Updated: 19 August 2019, 12:36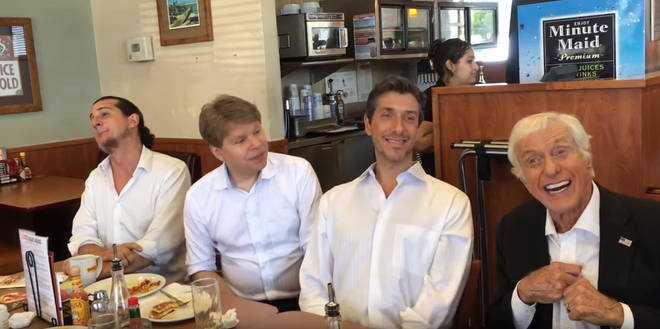 People feared the worst when they saw Dick Van Dyke, 93, was trending this morning, but we can take a deep breath and relax: it was all down to this wonderful video of the legend singing in a restaurant.
Certified national treasure Dick Van Dyke went viral this weekend – but fear not, it was all good news.
In a video posted on Twitter, the Mary Poppins star delights crowds in a diner in Santa Monica, with a jaunty barbershop rendition of 'Chitty Chitty Bang Bang'.
The 93-year-old actor, who played Caractacus Potts in the 1968 adventure fantasy film, sings the tune alongside his a cappella quartet, The Vantastix.
The video, which was filmed and uploaded to YouTube in 2016, has gone viral after it was reshared on Twitter yesterday.
Author Giles Paley-Phillips, who shared the video, wrote: 'Dick Van Dyke singing "Chitty Chitty Bang Bang" in a restaurant will cheer you up no end.'
People have since been sharing their love for the legend on Twitter.
"You have no idea how happy this makes me!" one user wrote.
Another said: "Dick Van Dyke, what a legend and still has that star quality. This has made my day today."
"Absolutely brilliant!" another user wrote. "I saw this film at the cinema when I was 10 and it remains one of my favourites. Can you believe Dick Van Dyke is nearly 94?"
Yup, he's still got it.