A pianist was asked to play Donald Trump's inauguration for free
19 January 2017, 16:08 | Updated: 20 January 2017, 17:50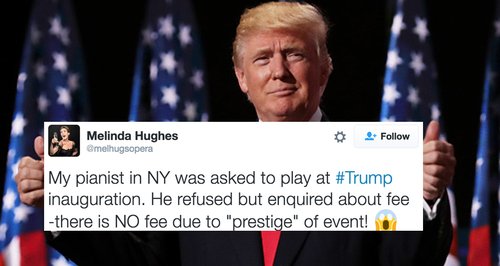 He was told that the performance was unpaid because "it's an honour to be invited".
Ahead of tomorrow's inauguration of President Trump, British pianist and anti-Trump David Shenton was asked if he would accompany singer Sevi Regis at the ceremony. Naturally he asked if there was a fee, however he was told that "it's an honour to be invited", as reported on slippedisc.com. He was later told his travel expenses would also not be reimbursed. As you would expect, he declined the offer, instead opting to accompany the politically outspoken UK cabaret artist Melinda Hughes at the Metropolitan Room in New York City, who tweeted the following:
My pianist in NY was asked to play at #Trump inauguration. He refused but enquired about fee -there is NO fee due to "prestige" of event!

— Melinda Hughes (@melhugsopera) January 18, 2017
David Shenton joins a growing list of artists who have also rejected the offer to perform at Trump's inauguration. It is also rumoured that Steinway were asked to donate a new piano, which would be painted with the red, blue and white stars and stripes of the American flag.
Which artists ARE playing tomorrow evening? Find out here.