This £8.7m concert hall has a stage that MOVES
21 April 2017, 12:28 | Updated: 21 April 2017, 13:37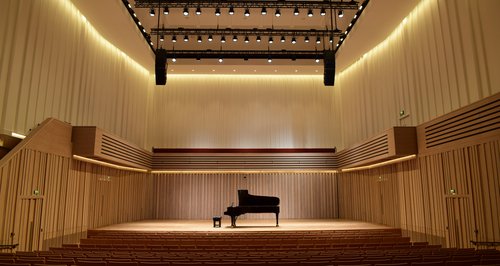 As well as being a flawless new performance space for Manchester, the £8.7m Stoller Hall has a stage that moves.
The Stoller Hall, situated within Chetham's School of Music in Manchester's Medieval Quarter, is a brand-new venue providing space for recitals, chamber and orchestral music, jazz, folk, pop and spoken word as well as recordings, conferences and rehearsals.
A particularly special and innovative feature of The Stoller Hall is the inclusion of state-of-the-art, flexible acoustics, variable for different types of performance. The reverberation time for the space varies from 1.1 to 1.9 seconds depending on the position of the acoustic banners, ensuring a superb sound for large and small ensembles, as well as spoken word. Furthermore, the stage itself expands, allowing for a fully flexible performance space.
But most excitingly, in just a matter of minutes, the floor can be lowered, the front four rows of chairs removed, and the floor raised up to the same height as the stage. It's most hypnotic.
Watch this awesome time-lapse of the stage extension here:
Read more about the opening of The Stoller Hall here.