The best classical music and opera online streams available in 2021
22 April 2021, 17:18 | Updated: 22 April 2021, 17:22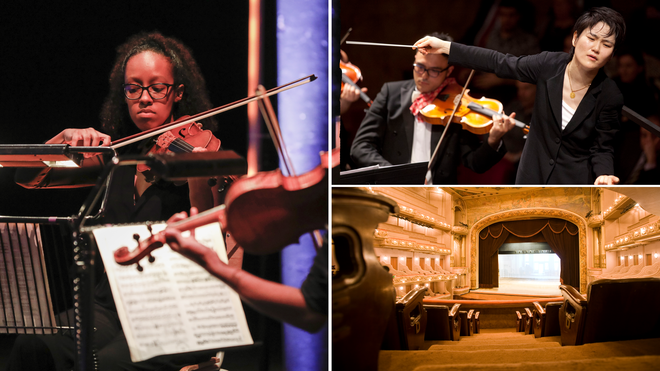 An updating list of the major classical concerts and events being streamed online as a result of the ongoing coronavirus measures around the world.
Measures taken worldwide to curb the spread of coronavirus have seen numerous classical concerts and events postponed and cancelled, and concert halls around the world closed for indefinite periods, since March 2020.
Countries banned gatherings, tightened their borders, and many have now seen various lockdowns for months. Some things are slowly starting to open up, but seeing live music still remains a rare treat.
As many of us are continuing to stay at home to work, self-isolate and look after the family, we're lucky that many major classical concerts and events are being held without audiences and streamed online for us to see – for free in many cases – something that brings comfort, solidarity and some beautiful relief in trying times.
Click here for the latest coronavirus advice from the NHS >
Upcoming classical concerts and opera being live streamed
29 January – 30 May: Princeton Symphony Orchestra (PSO) has joined forces with South Africa's acclaimed Buskaid Soweto String Ensemble to present a stunning on-demand concert series, curated from the ensemble's most memorable concert moments of the last five years. The series, which is just $5 per concert, lets us experience the virtuosity and vibrancy of this extraordinary group of players through their performances of classical, pop, and uniquely South African music.
Visit: princetonsymphony.org/calendar/buskaid-musical-miracle
28 January – 29 April: St Martin-in-the-Fields has launched Fresh Horizons, a new series of 14 concerts featuring internationally acclaimed artists including Chineke!, Stile Antico, Peter Donohoe, The Gesualdo Six, London Mozart Players and Academy of Martin-in-the-Fields, all recorded in the beautiful surroundings of St Martin-in-the-Fields church.
Visit: www.stmartin-in-the-fields.org
13 February – 22 April: VOCES8 Foundation presents 'Live From London Spring', an online offering of concerts from favourite choral artists, marking Valentine's Day, Passiontide, International Women's Day and Mother's Day, before culminating in a flourishing of creativity for Earth Day. A wonderful online festival aiming to sow the seeds for a summer of re-growth and renewal.
Visit: page.inplayer.com/livefromlondonspring
18 February – 26 May: Virtuoso pianist Howard Shelley OBE performs favourite works – both little- and well-known – from St. John's Smith Square in London, as part of his 'Piano Explored' series with London Mozart Players. There will be works for piano and orchestra from Mozart and Shostakovich, as well as gems from Saint-Saëns and Mendelssohn, and a couple of pieces ripe for discovery from Johann Nepomuk Hummel and Ignaz Moscheles.
Visit: www.londonmozartplayers.com/piano-explored
8 March – 8 June: Baroque choir and orchestra, Armonico Consort, presents an on-demand series of online concerts featuring sumptuous early music by the likes of Victoria, Byrd and Bach. Once you have your tickets, these beautiful performances are available to watch for 30 days.
Visit: www.armonico.org.uk/ondemand
11 March – 21 August: Chamber orchestra, Academy of St Martin in the Fields, presents a new series of online concerts, filmed live in London, with music from Bach, Brahms, Errollyn Wallen and Sally Beamish.
Visit: www.asmf.org
18 March – 29 April: The Hallé resumes the streamed edition of its 2021 Winter Season with five brand new performances, with music by Beethoven, Sibelius and Rachmaninov. The series will culminate in a new staging of Stravinsky's The Soldier's Tale conducted by Sir Mark Elder and directed by Annabel Arden.
Visit: www.halle.co.uk
25 March – 6 May, 19:30 BST: The Royal Philharmonic Orchestra returns to the Royal Albert Hall for a series of three online concerts with music director designate Vasily Petrenko at the helm – part of the Royal Albert Hall's 150th anniversary celebrations. Expect symphonies by Brahms, Beethoven and Tchaikovsky, with performances by saxophonist Jess Gillam and violinist Nicola Benedetti.
Visit: rpo.co.uk
29 March, 19:30 ET – 28 April: The Lincoln Center broadcasts a rare and special performance from opera royalty, Jessye Norman, in a concert of sublime arias – including Purcell's 'When I am laid in earth' AKA 'Dido's Lament' and 'Mon cœur s'ouvre à ta voix' from Saint-Saëns' Samson and Delilah. The treat of an unearthed performance features the Orchestra of St. Luke's, conducted by Jane Glover.
Visit: lincolncenter.org/lincoln-center-at-home
2 – 30 April: The Oxford Bach Soloists present an online Easter Festival, broadcast from beautiful locations in Oxford, including Christ Church Cathedral and New College Chapel. Over the four days, performances of Bach's St John Passion, Easter Oratorio and Easter Cantatas will stream online from 3pm, and they will then be available to watch on demand – if you miss them or if you want to enjoy them again – from 30 April.
Visit: www.oxfordbachsoloists.com
22 April, 19:30 BST: The Academy of St Martin in the Fields mixes the old with the new in a concert directed by John Butt, and featuring works by Errollyn Wallen, Matthew Locke and Henry Purcell.
Visit: www.asmf.org
23 – 24 April, 13:00 BST: Classic FM's Orchestra on Tour, the Philharmonia, presents new instalments of its specially-curated 90-minute online concerts in the acclaimed Philharmonia Sessions. The latest sessions are wonderful 'Orchestra Unwrapped' and 'Family Concert' events, featuring music by Smyth, Farrenc and others, as well as an orchestral 'Let It Go' from Frozen. Available to watch on-demand afterwards.
Visit: philharmonia.co.uk/series/philharmonia-sessions
25 April – 2 May: Northern Chamber Orchestra performs a selection of Mozart and Schumann works with guest soloists at the Stoller Hall in Manchester. Pianist Benjamin Powell joins the ensemble for Schumann's Piano Quintet, while the orchestra's principal clarinettist, Elizabeth Jordan, takes to the front of the stage for Mozart's Clarinet Quintet.
Visit: www.ncorch.co.uk
26 April – 14 May: Prestigious piano competition Concours Musical International de Montréal streams online for its 2021 instalment, following COVID-19 postponement last year. 27 brilliant semi-finalists will represent 11 countries, and record their competition submissions in 15 concert halls across the globe. All the performances will be available for streaming free and on-demand.
Visit: www.concoursmontreal.ca/en/piano-2021
28 April, 20:00 ET: Legendary pianist Sir András Schiff performs sublime piano works by Bach, Beethoven and Mozart online, as part of Washington Performing Arts' 'Home Delivery Plus' series.
Visit: www.washingtonperformingarts.org/seasontickets/home-delivery-plus
29 April, 19:00 BST: Star violinist Nicola Benedetti joins forces with London Symphony Orchestra, Classic FM's Orchestra in the City of London, for the world premiere performance of Mark Simpson's Violin Concerto – before the orchestra treats us to Tchaikovsky's Symphony No. 6 'Pathétique'. Gianandrea Noseda conducts.
Visit: lso.co.uk
30 April – 20 May, 19.30 BST: Classic FM's Orchestra on Tour continues its 'Streamed from the Southbank Centre' series. The Philharmonia Orchestra performs an incredible classical programme, featuring Elgar's Enigma Variations, Mozart's Violin Concerto No. 5 and Beethoven's Piano Concerto No. 5 among other masterpieces – and with star soloists and guest conductors, Steven Isserlis (cello), Steven Osborne (piano), Alina Ibragimova (violin), Alice Coote (mezzo), Elim Chan, Simone Young, Sir John Eliot Gardiner and Martyn Brabbins, joining the orchestra on stage.
Visit: philharmonia.co.uk/series/streamed-from-southbank-centre
6 May – 13 June, various times: London Symphony Orchestra, Classic FM's Orchestra in the City of London, continues its varied and endlessly engaging series of online concert offerings. There's something for every orchestral music lover – from a Symphonic Poem from Liszt, to masterful Verdi, Brahms and Dvořák excerpts in the Donatella Flick LSO Conducting Competition 2021 – and Beethoven's Fifth, among many other highlights.
Visit: lso.co.uk/whats-on
8 May, 18:00 BST: New York's Met Opera presents 'Wagnerians in concert', featuring opera stars Christine Goerke, Elza van den Heever, Andreas Schager, and Michael Voll performing arias from the German composer's epic operas – live from Wiesbaden in Germany. Streamed as part of the Met's 'Met Stars Live in Concert' series, the concert will be available for 14 days on-demand.
Visit: metstarslive.brightcove-services.com
Until 10 May: Wigmore Hall continues its stunning series of online chamber concerts, featuring the greatest performers – from Steven Isserlis, Imogen Cooper and Isata Kanneh-Mason, to The Sixteen and the Nash Ensemble. All streams take place daily across Wigmore's online and social channels, and are available to watch, for free, on demand for 30-90 days (check individual events for details).
Visit: wigmore-hall.org.uk/whats-on/spring-2021-wigmore-series
Until 13 May: Opera Up Close showcases two free online concerts as part of its 'Coffee Break' series – 'Calming The Tempest' and 'Shakespeare Re-Shaped'. Both concerts invites actors to accompany the music with their own readings, with Athena Stevens and Fiona Shaw appearing in the former, and actor Lara Steward performing Juliet's passionate 'Gallop apace' monologue in British Sign Language in the latter event, alongside actor Kat Rose-Martin.
Visit: www.operaupclose.com/at-home/coffee-break-concerts or youtube.com
Until 14 May: London Concertante presents a weekly online concert series called 'Tune-in', featuring programmatic music from some of London Concertante's finest players and friends of the ensemble – filmed in Peckham, London's atmospheric Asylum Chapel.
Visit: londonconcertante.com/tune-in
22 May, 18:00 BST: The latest instalment of the 'Met Stars Live in Concerts' series, this event features a stunning performance from three members of opera royalty – filmed at Opéra Royal at the Château de Versailles in France. Sopranos Ailyn Pérez and Nadine Sierra, and mezzo-soprano Isabel Leonard perform a selection of favourite opera arias in the stunning surrounds.
Visit: metstarslive.brightcove-services.com
Until 30 May: Conway Hall in Bloomsbury, London hosts a series of online 'Sunday Concerts' featuring a wonderful selection of chamber music. Highlights in this Spring season include Piatti Quartet and the Greenwhich Trio.
Visit: conwayhall.org.uk/events
Until 30 June: Manchester Camerata presents 'Renew', a soothing, meditative programme of music by Tchaikovsky, Philip Glass and Roxanna Panufnix compiled to help us unwind and reflect on the challenging times we're in – with a sense of renewal and beauty at its heart. Watch on-demand, and on a pay-what-you-can basis. 'Renew' is presented in collaboration with the arts centre, HOME.
Visit: homemcr.org/production/renew-manchester-camerata
Recent past classical concerts on demand
1 March, 13:00 GMT: Royal Birmingham Conservatoire presents a lunchtime concert of free music, expertly performed by the brilliant students – today from the Vocal Department, performing a selection of operatic arias and excerpts by Britten, Debussy, Gluck and Strauss. Lunch breaks are vital, and this is just the ticket.
Visit: www.bcu.ac.uk/conservatoire
3 March, 19:00 GMT: Classical music supergroups don't come much better than cellist Sheku Kanneh-Mason, duo Tom Poster and Elena Urioste, violinist Hyeyoon Park, and a bunch of enthusiastic Music Masters' pupils. Watch a performance from these wonderful musicians, plus appearances from violinist Nicola Benedetti, pianists Isata Kanneh-Mason and Benjamin Grosvenor, the Harlem Quartet, and violinist Randall Goosby in this Ambassadors For Change event from the charity.
Visit: musicmasters.org.uk/ambassadors-for-change
5 March, 17:00 GMT: The Bromsgrove presents its third online recital in celebration of its 40th anniversary. Sign up now to watch former competition winner Luke Jones perform a programme of Chopin and Rachmaninov.
Visit: bit.ly/bimcrecitals
7 March, 11:00 GMT: Iconic record label Deutsche Grammophon is hosting a special online Yellow Lounge concert, celebrating 'Women of Achievement', on the eve of International Women's Day. Watch star soprano Nadine Sierra, harpist Magdalena Hoffmann, violinist Bomsori and soprano Hera Hyesang Park in this empowering event, which streams first on DG Stage, then on YouTube.
Visit: www.dg-premium.com/dg_stage_video/yellow-lounge-women-of-achievement
7 March, 18:30 GMT: Conway Hall presents a fundraising concert of chamber music by Beethoven, Mozart, Haydn and more – performed by Zoffany Ensemble and presented by our very own Catherine Bott. Zoffany is a chamber group, founded by violinist Manon Derome, and they're raising money for musicians at this difficult time.
Visit: conwayhall.org.uk
7 March, 16:00 EST: Violinist Curtis Stewart performs a brilliant programme of original compositions and virtuosic re-workings of music by Charlie Parker, Bach, John Coltrane, Eugène Ysaÿe, Stevie Wonder, Childish Gambino, and Coleridge Taylor-Perkinson. Curtis is a Grammy-winning violinist based in New York.
Visit: www.bklynlibrary.org
8 March, 13:00 GMT: Take a Monday lunchtime break, and enjoy a free hour or so of wonderful solos and duos by Mozart, Prokofiev, and more – performed by fantastic trumpet, viola, bassoon and piano players from Royal Birmingham Conservatoire.
Visit: bcu.ac.uk/conservatoire
19 March, 13:00 GMT: Star players from the Royal Academy of Music, directed by violinist Clio Gould, perform Elgar's Introduction and Allegro, Britten's Variations on a Theme of Frank Bridge, and the world premiere of a new piece by Irish composer Stephen McNeff.
Visit: tickets.ram.ac.uk
19 March, 19:30 GMT: English Symphony Orchestra presents a wonderful exploration of Elgar, through an arrangement of his music into Miniatures for Cello and Strings. The orchestra is conducted by Kenneth Woods, and the soloist is cellist Raphael Wallfisch.
Visit: www.eso.co.uk
21 March: ...is Early Music Day. This year, the National Centre for Early Music is celebrating with a residency with the award-winning ensemble The Gesualdo Six. The vocal consort will perform an online concert to mark the day, while also honouring J.S. Bach's birthday, which falls at the end of March.
22 March, 13:00 GMT Royal Birmingham Conservatoire string players present works by Liszt, Mozart, Bach and Franck in this wonderful Monday lunchtime concert. So take a break, microwave last night's dinner, and… escape with wonderful music.
Visit: bcu.ac.uk/conservatoire
Until 24 March, 19:30 GMT: Classic FM's Orchestra in the South of England, Bournemouth Symphony Orchestra (BSO), is streaming its 2021 season online due to the pandemic. Captured at BSO's home concert hall, Lighthouse, Poole, the concerts are performed to a small audience – and highlights include Strauss, Mahler and Brahms (Wednesday 12 January), Vaughan Williams' Fifth Symphony (27 January) and Beethoven's Fourth Piano Concerto, performed by Sunwook Kim (17 March). All concerts are available to stream online on demand for 30 days after their original broadcast date.
Visit: bsolive.com
26 March, 19:00 GMT: Lantivet Trio – Cornish violinist and violist Anna Brigham and Scottish pianist and trumpeter Brendan Musk – have been raising money for UK charities (£5,000 so far!) with their living room concerts during lockdown. And tonight they're taking us for a much-needed American Road Trip! Their journey through the music of the USA will include John Adams' Road Movies and stop off at some wonderful bluegrass, jazz, ragtime, show tunes and Native American music along the way. The duo will also be performing a world premiere of a new commission by composer Callum Au. The concert is free to watch on Facebook, but donations are much appreciated – proceeds will be split between the duo and Girls Out Loud, a charity empowering girls to channel their potential.
Visit: tiny.cc/donatetolantivet
12 March, 11:00 – 20 March, 20:00 GMT: Philharmonia Orchestra joins forces with Royal Shakespeare Company, Manchester International Festival and several specialist immersive technology organisations and pioneers to present 'Dream', a spectacular virtual concert that takes place in a magical, midsummer forest. Promising a 'moonlit journey', the project ignites theatre and orchestral music with technology in an extraordinary vision of the future of live performance.
Visit: dream.online
26-28 March: Princeton Symphony Orchestra partners with Buskaid Soweto String Ensemble to present their performance of Vaughan Williams' enduringly beloved The Lark Ascending – with topflight violinist Kabelo Monnathebe soaring above the orchestra as soloist for the occasion. The programme also includes works by Grieg and Mussorgsky, alongside traditional southern African hymns.
Visit: princetonsymphony.org
28 March, 19:00 GMT: Britten Sinfonia takes to the stage at Saffron Hall to perform a free online concert of Bach's St John Passion – with Daniel Hyde, director of music at Kings College, Cambridge, conducting, and soloists Julia Doyle, Helen Charleston, Jessica Dandy, Nicholas Pritchard and Gwilym Bowen. Introduced by our very own Catherine Bott, the concert will be streamed on Saffron Hall's website and YouTube Channel, and will be available to watch on demand for 30 days (watch above).
Visit: brittensinfonia.com
8 January – 31 March, 17:30 GMT: Artist management company Only Stage presents its All About Bach! festival online, featuring star soloists like violinist Charlie Siem, electronics pioneer and composer Gabriel Prokofiev, and cellist Luca Franzetti. Nine concerts in total, which you can find listed here, will drop on YouTube and Only Stage's website week-to-week, and will be available on-demand after their initial outings.
Visit: www.onlystage.co.uk/digital-season
8 April, 19:30 BST: Academy of St Martin in the Fields performs an abridged version of Handel's Messiah with light projections by Nina Dunn. Available to watch on-demand until 7 May.
Visit: www.asmf.org
12 March – 2 April, 17:00 GMT: Internationally acclaimed violinist Nicola Benedetti plays a solo programme of Ysaÿe, Biber, Paganini and Bach recorded live at Saffron Hall. The stream is free to watch with no need to book, but donations to Saffron Hall Trust, The Benedetti Foundation and The Cumnock Tryst are encouraged.
Visit: events.saffronhall.com
29 March, 13:00 GMT: Take Terry Riley's minimalist masterpiece In C, add to it an ensemble of saxophones, and add it to your Monday lunch break for a sound that'll revitalise you right out of that Monday morning slow feeling… thanks to the talented Royal Birmingham Conservatoire Saxophone department.
Visit: bcu.ac.uk/conservatoire
31 March, 13:00 GMT: Watch the Royal Academy of Music's Spring Recital, featuring Academy's Song Circle performing a selection of songs dedicated to the season of spring – including works by Grieg, Butterworth, Debussy and Wolf.
Visit: tickets.ram.ac.uk
9 April, 17:00 BST: Join The Bromsgrove virtually for their fourth online recital, performed by brilliant accordionist Bartosz Glowacki, with music by Alessandro Marcello, Jerzy Madrawski and Astor Piazzolla.
Visit: bromsgrovecompetition.com
16 April, 18:00 BST: The English Symphony Orchestra presents the next instalment of the 'Art of Storytelling' series, where the orchestra teams up with narrators to bring the power of music and great literature together. This week, actor Gemma Whelan joins the orchestra for a performance of Kile Smith's The Bremen Town Musicians, commissioned in 2008 by David Yang.
Visit: www.eso.co.uk/bremen
16-18 April: Tippet Rise Art Center in the US presents its digital Spring Festival, which features a selection of fascinating short films and a world premiere performance. Highlights include flautist Claire Chase premiering a new work by Bora Yoon, and appearances from cellist Arlen Hlusko, and violinists Benjamin Beilman, Katie Hyun and Tessa Lark, among others.
Visit: tippetrise.org/virtual-events