Vandals forcibly turned over this Steinway piano in a Kansas chapel
8 December 2015, 16:08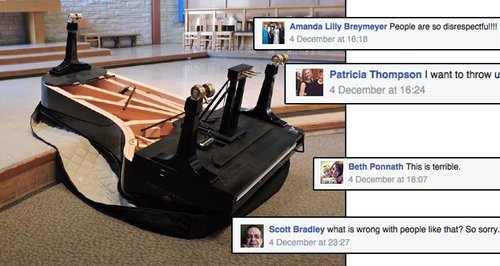 A brand new Steinway piano in a Kansas chapel has been overturned by intruders, sparking a fierce online reaction.
Photos of the overturned piano, shared on Facebook by Teri Breymeyer, show the upside-down instrument precariously leaning on a single step.

Breymeyer, an admin assistant for the Kansas School of Music, Theatre and Dance (who often use the piano and the chapel venue as a performance space), told kstatecollegian.com: "We don't know if it's a prank, but if it was, they don't realise how much damage it caused by overturning the piano."
The piano's estimated worth is $119,000.

Furious local commenters have made their opinions known on Breymeyer's Facebook post.