Harry Rabinowitz, TV and film composer and conductor, dies aged 100
23 June 2016, 06:49 | Updated: 23 June 2016, 09:12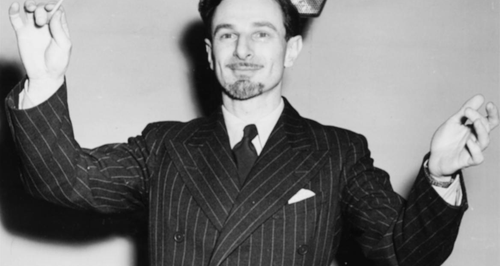 Prolific musician was in demand for radio, films and TV, from Eurovision to Reilly, Ace of Spies.
Rabinowitz's family reported that he passed away at his house in France, just three months after his 100th birthday.
He will be best remembered for conducting the scores for more than 60 films, including Chariots of Fire, The Remains of the Day, The English Patient, The Talented Mr. Ripley and Cold Mountain. He also conducted the original 1979 TV premiere of Andrew Lloyd Webber's musical, Tell Me on a Sunday and was the first conductor of the hit musical, Cats.
He also composed memorable television scores, such as I, Claudius and Reilly, Ace of Spies. Rabinowitz considered the Bafta-nominated soundtrack for Reilly as his favourite work. It drew upon the 'Romance' theme from Shostakovich's film score for The Gadfly.
He was a popular conductor among his peers.
"In almost all the sessions I've conducted the musicians have left smiling," Rabinowitz said in an interview in 2008.
"They didn't go out drooping or bored. I take pleasure in that. In fact, I think a timely phrase would be, 'He never wasted his colleagues' time.'"
Born in Johannesburg, Rabinowitz left South Africa in 1946 to study conducting at London's Guildhall School of Music and Drama.
He appeared regularly on television and radio throughout the 1950s and 1960s, becoming head of music for London Weekend Television between 1968 and 1977, the year he was awarded an MBE.
He twice conducted the United Kingdom's Eurovision entry. In 1964, the entry 'I love the little things', sung by Matt Monro, came second. Two years later, Rabinowitz conducted Kenneth McKellar's rendition of 'A man without love', which came ninth.
Rabinowitz continued to play the piano every day, up to his death.