This pianist tried to cycle through San Francisco with a grand piano – and it went badly wrong
7 March 2019, 18:51 | Updated: 8 March 2019, 10:13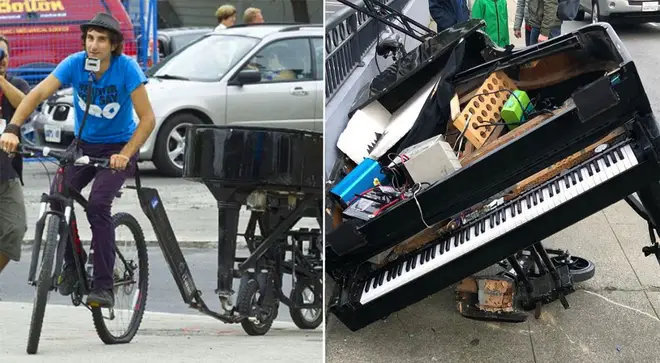 Pianist Davide Martello has ridden his piano through some of the world's most dangerous terrain – but it turns out the steep hills of San Francisco are more of a hazard...
German pianist Davide Martello, also known as Klavierkunst, has made a name for himself by cycling around the world and performing in all kinds of places, including conflict zones.
In 2012, he travelled to Afghanistan to play for the soldiers in Mazar-i-Sharif, Kunduz and Termez over the Christmas period.
A year later, he played for 14 hours – on a piano he'd built himself – at a concert held in Tasksim Square, Turkey to an audience of thousands during the Gezi Park protests.
In 2015 he visited the Bataclan Theatre in Paris to play John Lennon's 'Imagine', to commemorate the victims of the terror attack in the theatre earlier that year.
Wherever he's gone, Martello's piano has managed to stay in perfect condition – but earlier this week, the steep city streets of San Francisco proved to be a step too far for the instrument.
The pianist was due to perform at the pier and had been searching for a place to set up, until his bike picked up too much speed.
Before he knew it, his beloved black piano was smashed to pieces on the street – luckily, he was unharmed.
Speaking about the accident to kpix.com, Davide said: "Usually I check out the street before, but I was in a hurry."
He posted about the incident on Instagram:
But since then, Davide has enjoyed a stroke of luck.
After visiting DC Pianos – a piano store in the heart of the city – and explaining his unfortunate situation, employee Dennis Crudo decided to step in and save the day.
Speaking about Martello, Crudo said: "...his passion, it's a whole part of the music world where someone loves the music and their instrument."
Feeling sympathetic over his recent misfortune, the fellow piano enthusiast proceeded to surprise Davide by gifting him a used piano and bench.
Naturally, he was overwhelmed by the warm gesture, saying: "Seriously? Thank you! Thank you so much! Thank you, oh my God! I just got a bench for free! A free piano to go along with it? A free piano? This can't be!"
Having witnessed the surprise, a reporter at ABC7 News shared a photo of Davide with the kind-hearted shop-keeper:
After spreading so much joy with his instrument for so many years, the idea was a truly fitting reward for a great musician.
Well done, Davide!