Someone called 911 to report a gun – but it was just a guy playing his bassoon
12 October 2018, 17:26 | Updated: 18 September 2023, 11:25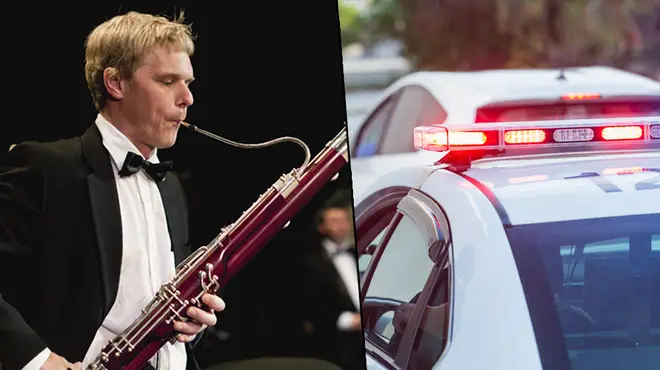 A 911 caller told police a man was sitting on his car with a weapon, but he was just playing the bassoon.
This summer, bassoonist Eric Barga drove to Covenant Presbyterian Church in Springfield, Ohio, after a day of teaching at his old school, Kenton Ride High School.
Eric was half an hour early for bell choir practice. To pass the time, he pulled out his custom-made Fox 610 red maple bassoon, sat down on the boot of his car and started playing some scales.
Seven minutes later, Springfield police received a 911 call, saying there was a white male in a jacket and jeans sitting on the back of his car by the church holding what looked like a long rifle.
Five minutes later, two police vehicles arrived on the scene.
"They didn't immediately approach me," Eric told Springfield News. "I saw a big police van roll up really slowly. I wasn't concerned that I was doing anything wrong."
Eric wondered if someone had made a noise complaint about him. The idea that someone might have mistaken his bassoon for a rifle, he said: "never crossed my mind".
"In the right kind of light, it looks like a bazooka," he said, "but I don't think it was the right kind of light."
The officers approached him.
"At this point, I realise they're confronting me. I put on a little dopey smile and said, 'Did somebody call the cops on me?'
"I didn't really feel threatened. "I don't get nervous. Years of music school (performance) beats that out of you."
By the time the officers got to Eric's car, they had realised the gun was in fact a musical instrument and were laughing. They even asked Eric: "Is that a bassoon or an oboe?"
Eric treated the officers to a bit of Mozart's Bassoon Concerto before they left him to his practice.
Mozart: Bassoon Concerto (complete) in B-flat major K 191, Aligi Voltan bassoon