Join the online dating website designed for those who love arts, culture and classical music
3 January 2020, 09:00 | Updated: 3 January 2020, 09:01
Looking for a dating website where people share your interests? We meet soon-to-be-married couple Lorna and Nelson who found each other on Classic FM Romance.
Classic FM Romance has been going for a decade, and in those ten years the site has seen many a couple meet and blossom.
Recently, Classic FM spoke exclusively to Lorna and Nelson who met on the dating platform aimed at classical music lovers.
Lorna, who first heard about Classic FM Romance through on-air trailers on Classic FM, says: "I was drawn to it because I knew it would be people who are a little bit older, who have lived a bit more of life, and who knew they were looking for a serious relationship."
"You can feel the respect and seriousness," Nelson agrees.
Read more: Did you know you can find love through Classic FM? Meet five loved-up couples who did just that >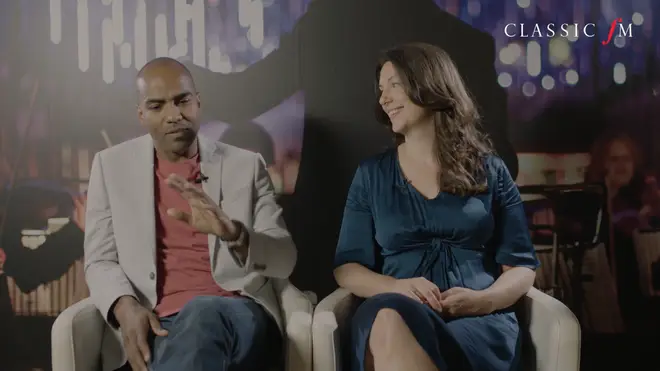 Lorna is a long-time Classic FM listener, and Nelson has similarly enjoyed classical music forever, including in Columbia where he was born and lived until about 15 years ago.
Nelson sent over the first exchange he had with Lorna on Classic FM Romance – "very cheesy", according to Lorna – after he had extended his search range to her area.
"In Nelson's profile, he said something about being emotionally present in a relationship, which really struct me, as that's what I'm looking for," Lorna tells Classic FM.
She goes on to describe the pair's meeting, and they tell us about how romance blossomed (watch the full interview above).
And, how do you know when you've potentially met someone special?
"I know what I want, and I knew straight away with Nelson I felt something different. I knew on the first date that this was something significant."
"Yeah, on the first date we covered a lot!" Nelson agrees.
Read more: Quiz – Tell us about your music tastes and we'll reveal your exact type >
The pair are now engaged and getting married in August 2020.
The proposal was meant to happen in a beautiful bluebell field close to home, but Nelson's struggle with the ring led to Lorna interrupting the moment, and her being presented with a cream egg instead.
After walking along eating the cream egg, Nelson was able to find a nice moment to propose in the evening, leaving Lorna adequately surprised and delighted!
"I was hesitant about online dating, but what really keeps you from finding what you want is fear," Nelson says. "Fear can keep you away from finding love, so let go of fear and go for it."
"Be yourself," is Lorna's advice.
"It's tough out there with online dating," Lorna says. "I chose Classic FM Romance because I thought it would have more genuine, real people, and that's what I found.
"After conversations with other genuine people, I met a man who changed my life."
Find out more by watching Nelson and Lorna's full interview above, and find love with Classic FM Romance by signing up today! Find out more at dating.classicfm.com.