10 relaxing pieces of classical music for children
30 April 2020, 14:21 | Updated: 27 May 2022, 12:24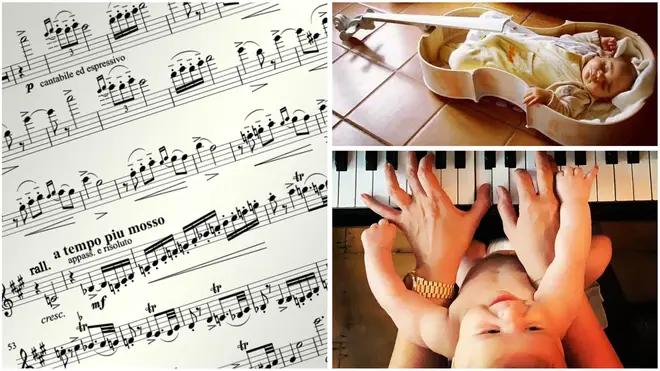 Keep your little ones calm with the soothing sounds of classical music…
For those moments when their head isn't easily hitting the pillow, here are the perfect pieces of relaxing classical music for kids – from Bach to Einaudi.
Liebestraum No. 3 – Liszt

The quintessential Romantic piano miniature. Listen, and feel calmed by those repeated arpeggios and shifting harmonies...

Liszt - Liebestraum No. 3 (Love Dream)

The Swan – Saint-Saëns

Arguably the most famous of Saint-Saëns' The Carnival of the Animals is No. 13 'The Swan'. Scored for two pianos and a solo cello, its calming melody represents the bird's effortless gliding, while the rolling piano chords paint a musical picture of the swan's hidden feet, paddling furiously under the water.

Gautier Capuçon – The Swan… on top of a mountain

Air on a G String – Bach

A gentle, heartbeat-like pulse is the key to this beautiful piece – the slow movement of the Orchestral Suite No. 3 in D. And because it's Bach, you can be sure the melody's going to be pretty good too.

Air on the G String (Suite No. 3, BWV 1068) J. S. Bach, original instruments

Wiegenlied – Brahms

The world's most famous lullaby melody – you can't help but sing 'Go to sleep, go to sleep' along with it. Is it bedtime yet?

Johannes Brahms - Wiegenlied (Lullaby)

'Meditation' from Thaïs – Massenet

It's officially an intermezzo from Massenet's opera Thaïs – but far from being filler music, the 'Méditation' is a captivating performance piece in its own right. That blissfully indulgent violin solo can provide a moment of calm in the times when you need it most.

Jules Massenet / Thais / Meditation

I Giorni – Einaudi

Italian composer Einaudi was inspired to compose I Giorni ('The Days') after hearing a twelfth-century folk song that originated in the country of Mali. Each piece in Einaudi's album of the same name demonstrates his ability to compose utterly simple yet beguiling melodies. A moment of musical bliss for you and your child.

Ludovico Einaudi - I Giorni

American Beauty – Thomas Newman

Pensive, thoughtful music to accompany Sam Mendes' screenplay. If your child is ever feeling anxious, taking a moment with Newman's stunning film score can help.

'American Beauty' - Thomas Newman (from the 'plastic bag scene')

Tutto è bellissimo – Alberto Giurioli

Italian pianist Alberto Giurioli, 29, made history in the Classic FM Hall of Fame 2020 as the countdown's youngest ever composer. His calming, piano-led composition 'Everything is beautiful' was the winning piece.

Nocturne – Borodin

Within the classical repertoire, there are a host of beautiful Nocturnes to choose from (Chopin's are perhaps the most famous). But this beautiful, lilting one by Borodin is the perfect choice for young listeners, managing to both uplift and relax.

Borodin - String Quartet No. 2: Nocturne (Dover Quartet)

Spiegel im Spiegel – Arvo Part

A masterpiece of minimalism by Estonian composer Arvo Pärt; 'Spiegel im Spiegel' is enduringly popular for the calm, still environment it inhabits, in a world that is so often much more noisy and frantic.

Spiegel im Spiegel for Cello and Piano (Arvo Pärt)
And if you're in need of a continuous playlist of relaxing music, try Classic FM Relax on Global Player.