The Shows Must Go On! postpones tonight's 'Peter Pan' musical stream
5 June 2020, 12:57 | Updated: 5 June 2020, 13:01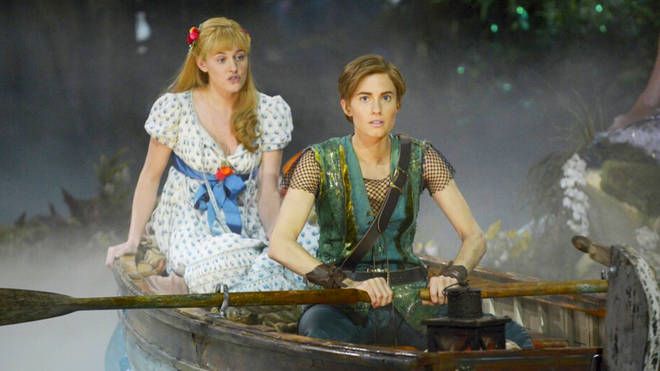 During the coronavirus lockdown, YouTube channel 'The Shows Must Go On' has been serving up a free musicals stream every week – but just for tonight, the show is being paused...
In recent weeks, audiences have been gathering online every Friday evening for a free musicals stream via YouTube channel The Shows Must Go On, amid the COVID-19 pandemic.
From Andrew Lloyd Webber's Cats and The Phantom of the Opera to NBC's The Sound of Music Live!, there's been hours of song and dance to keep us occupied as the doors for many theatres across the West End and Broadway remain closed.
Last Friday, we were treated to a toe-tapping production of Hairspray Live! (watch trailer below), starring Maddie Baillio, Jennifer Hudson, Kristin Chenoweth and Ariana Grande.
And tonight, the popular YouTube channel had been due to stream NBC's 2014 TV adaptation of Peter Pan Live! for 48 hours – but it has now been announced that this will be postponed.
Read more: Hamilton to Oklahoma! – how to watch Broadway and West End shows from home >
Peter Pan Live! – why has the free stream been postponed?
On 25 May, the tragic death of African American man George Floyd sparked outrage across the globe, leading to mass protests in the United States and around the world.
The 46-year-old, who was known to his loved ones as "Big Floyd", was killed in Minneapolis by police.
Since then, artists and venues have joined forces on social media in an act of political intervention by participating in The Show Must Be Paused – set up by music industry executives Jamila Thomas and Brianna Agyemang to make a stand against racism and police brutality.
From Spotify, Met Opera and The Royal Albert Hall, to Matteo Bocelli, Royal Opera House and Sheku Kanneh-Mason, hundreds of well known names have been sharing heartfelt messages of solidarity.
The Shows Must Go On series has now joined this list, and released the following statement on YouTube (see clip below): "We will no longer be going ahead with this weekend's show. We stand with our black employees, colleagues, partners and creators in outrage at acts of racism. Black lives matter."
Peter Pan Live! – what is the story, and who is in the cast?
Penned by Scottish novelist and playwright, J.M. Barrie, in 1904, Peter Pan tells the tale of a free-spirited young boy who can fly and never grows up.
Instead, he spends his time as leader of the Lost Boys, going on magical adventures on the island of Neverland and meeting fairies, pirates, mermaids, Native Americans and children from the real world.
NBC's charming TV adaptation (watch trailer below) stars American actor Allison Williams in the title role – best known for playing Marnie Michaels on the HBO comedy-drama series, Girls, and receiving critical acclaim for her performance in the 2017 horror film, Get Out.
She is joined in the cast by Oscar winner Christopher Walken (who plays evil pirate, Captain Hook), Taylor Louderman (Wendy Darling) who previously starred as Regina George in the Broadway musical Mean Girls, and Tony winners Kelli O'Hara (Mrs Darling) and Christian Borle (Mr. Darling and Smee), among others.
Read more: The show must be paused: the classical world falls silent to honour George Floyd >
Peter Pan Live! – what are the songs?
The music for Peter Pan Live! was co-written by Moose Charlap, Jule Styne, Carolyn Leigh, Betty Comden, and American actor, singer and songwriter, Amanda Green – who happens to be the daughter of Adolph Green, the lyricist for Broadway's original 1954 Peter Pan production.
Its infectiously catchy soundtrack includes the musical numbers 'I Gotta Crow' and 'I'm Flying' (sung by Peter), 'Pirate March', 'Hook's Waltz' and Wendy's sweet-sounding ballad, 'Only Pretend'.
The new date and time for The Show Must Go On's Peter Pan Live! stream is still to be announced.