'The Perfection' on Netflix is making people feel sick – here's why.
31 May 2019, 14:02 | Updated: 31 May 2019, 14:06
Warning: contains spoilers and graphic imagery
The Netflix horror movie about a troubled music prodigy and her friendship with star cellist Lizzie is causing a stir – mostly in viewers' stomachs. Here's why…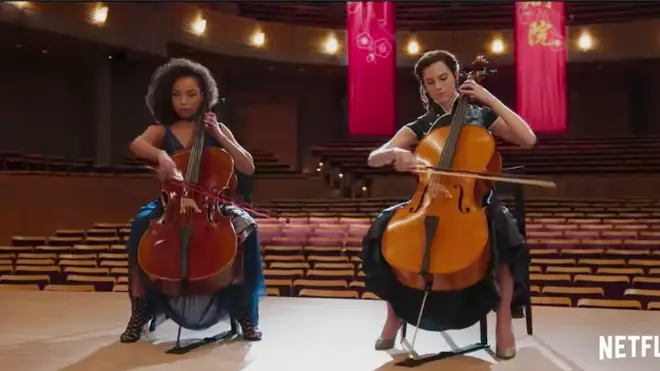 Netflix's newest horror flick, The Perfection, is freaking lots of people out.
From warning us not to watch it, to claiming they have been made physically sick by it, viewers have taken to social media in droves to talk about the film.
Fooled around and watched 'The Perfection' on Netflix a couple nights ago and 🤮

— 👑𝒯𝓇𝑒𝓁𝓁𝒾𝑒 🐝ℋ𝓊𝓈𝓈𝓁𝑒 💙 (@iAmTrellieB) May 29, 2019
We appreciate the concern, but didn't heed the warnings... Instead, we gallantly watched the film so we can give you the low-down (you're welcome).
What is Netflix's 'The Perfection' actually about?
The Perfection follows talented but troubled cellist, Charlotte (played by Allison Williams), as she travels to Shanghai to reconnect with Anton (played by Steven Weber), her former mentor at the fictional Bachoff Academy of Music. Anton and his wife, Paloma (Alaina Huffman), are running a cello competition where another protégé of Anton's called Lizzie (Logan Browning) is adjudicating and performing.
We are unsure of how Charlotte and Lizzie feel about one another at first, but they soon make friends and spend the night together. When Charlotte agrees to accompany Lizzie on a road trip she has planned through rural China the next day, Lizzie falls ill and what ensues is a stomach-churning decent into chaos and terror. And plenty of plot twists.
Director Richard Shepard adds to gory thrills and suspense by rewinding the story a couple of times, and looping backwards and forwards to reveal hidden details. We won't reveal too much more, but if you're brave enough to "face the music" (as Netflix's tagline challenges us to do), you can watch Netflix's official trailer above.
Why is 'The Perfection' making people sick?
Director Richard Shepard has gone for plenty of gore and, frankly, pretty sickening imagery in The Perfection, and people's reactions range from shocked and disgusted, to awe-stricken.
The story itself has enough twists and turns to get people talking, but its the gory imagery that stays with most people. There's lots of blood and pain, and above that there are copious amounts of vomit. Vomit mixed with bugs. Yep, there are lots of bugs.
me at the beginning of the perfection on Netflix: ready to watch a scary bug movie
me at the end: in shock and physically ill

— 𝕊𝕙𝕖𝕝𝕓𝕪 𝕃𝕪𝕟𝕟 (@seasonalOREO) May 28, 2019
Just watched The Perfection on Netflix and honestly I don't think I've ever screamed that loud in my life. And now I feel nauseous.

— . (@teasandpeas) May 28, 2019
Yo.... The Perfection on Netflix.... insane. My stomach hurts.

— Tyler Pagley (@TylerPagley) May 28, 2019
Who are the actors in 'The Perfection'?
The Netflix production sees Allison Williams (Girls, Get Out) and Logan Browning (Dear White People) starring as Charlotte and Lizzie respectively.
Steven Weber (Wings, Single White Female) and Alaina Huffman (Painkiller Jane, Supernatural) play Anton and his wife, Paloma. Molly Grace, Graeme Duffy and Mark Kandborg also make appearances.
The Perfection is out now on Netflix.
'Cello Duet no. 3' - 'From the Film "The Perfection"'