Game of Thrones theme tune: everything you need to know about Ramin Djawadi's epic score
11 April 2019, 16:01 | Updated: 11 April 2019, 16:06
Game of Thrones Season 8 is nearly upon us, so here's a closer look at Ramin Djawadi's famous soundtrack for the HBO fantasy series – from the name of the theme to the instrument that takes a starring role.
From the ear-wormy 'Main Titles' theme to some monumental choral numbers (we're looking at you, 'Khaleesi'), Ramin Djawadi's score for Game of Thrones is consistently excellent.
It has won a Primetime Emmy for Outstanding Music Composition, two ASCAP Awards and was nominated for a Grammy. In fact, it is so popular that producers decided to create a Game of Thrones Live Concert Experience, which toured the US, UK and Canada last year.
With the release date for Game of Thrones season 8 confirmed as 14 April 2019, here's everything you need to know about the German-Iranian composer's epic soundtrack.
What is the Game of Thrones theme called?
The title theme is simply called 'Game of Thrones Theme', but is also referred to as 'Main Titles' on Game of Thrones soundtrack albums.
The opening credits of Game of Thrones is the most famous piece of music from the series but Ramin Djawadi has written the music for all eight seasons, including the upcoming season. As well as the main theme, distinct individual themes have been created for some of the main characters and Houses.
The Game of Thrones theme played on contrabass flute sounds haunting and monumental >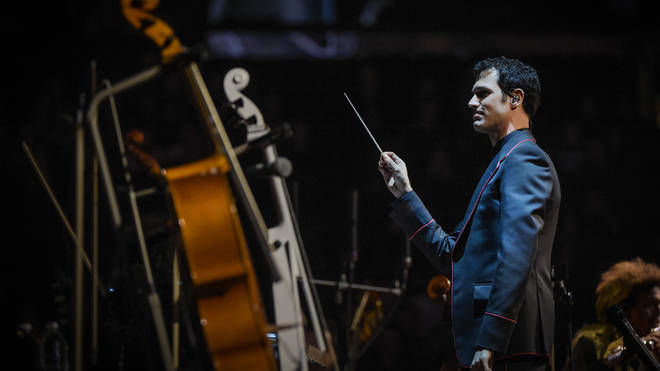 Djawadi's stirring score is dominated by the main title theme. Djawadi said he was inspired to write the iconic melody after watching an early version of the series' computer-generated title sequence.
The riff, seen below, recurs in various guises throughout the episodes in each season.

What instrument is used in the Game of Thrones soundtrack?
When Djawadi was approached by producers to compose the score, he was famously told to avoid flutes and violins which are, in their words, 'overused' in fantasy soundtracks.
So, he decided to lead the fantasy theme with a cello.
"It can be very dark and moody, but also beautiful and emotional at the same time," says Djawadi, "And it's just perfect for the show. Because it's such a dark show. Obviously, because all these families have their problems."
Cover versions and parodies
As with all great music, the Game of Thrones theme has inspired many tributes and cover versions, including a cello-only version by 2Cellos and a chamber version by Australian classical pop group, Aston.
It was also given lyrics for the first time in 2014, when 'Weird Al' Yankovic performed a parody version at the 66th Primetime Emmy Awards.
Here's a particularly beautiful reimagining of the theme, composed by pianist Edoardo Brotto in the style of Rachmaninov:
Game of Thrones season 8 will be released on 14 April 2019. Find out more on HBO's website.