A museum admitted a waddle of penguins, and they enjoyed the art immensely
27 May 2020, 09:35 | Updated: 27 May 2020, 12:54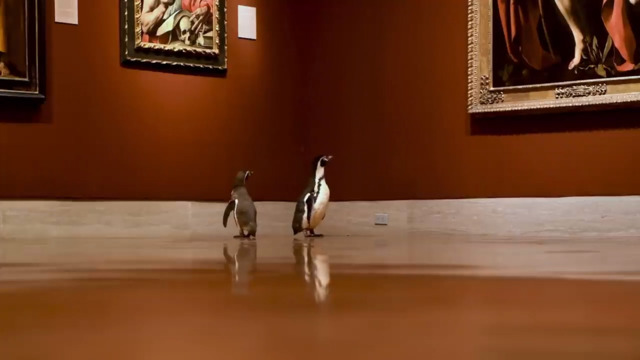 Penguins Visit Nelson-Atkins Ahead of Kansas City Zoo Opening
This quite frankly has made my day.
Penguins have been let into an art gallery and proved quite the fans of Baroque and Impressionist paintings.
Three Humboldt penguins from Kansas City Zoo wandered around the Nelson-Atkins Museum of Art, and gazed up (yes, penguins can look up) in wonder at works by Monet and Caravaggio, among others.
And it was portraits, that the plucky little birds favoured over the water-depicting Monet, museum director Julián Zugazagoitia has revealed.
"The reason we wanted to expose the penguins to Monet's 'Water Lilies', besides the fact that it's one of our favorite paintings, is that it's so calming and soothing," Zugazagoitia told Insider. "We thought maybe they would react to the soothingness of that painting, but they seemed to wander around and not particularly stop on that one."
Read more: People are recreating famous paintings in quarantine >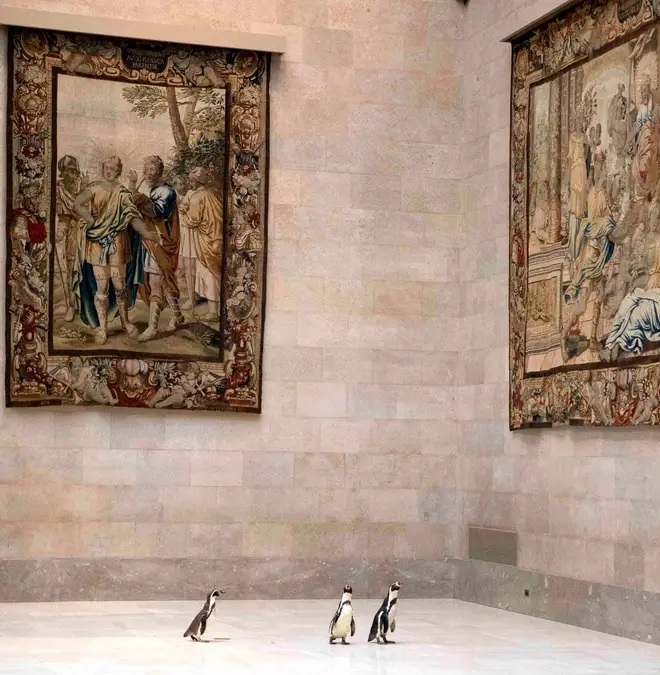 Indeed, while the Monet didn't particularly move them, Baroque portraits did.
"I don't know if the penguins were recognising human figures and looking at that, as they like interacting with humans. Or maybe they just like the Old Masters more," Zugazagoitia explains.
"They reacted very much like our visitors, who wander around the rooms and look a little here and a little there," he said. "They say the average attention span of humans is eight to 10 seconds when you're looking in a very big museum, and I think the penguins were in that average.
"They were more anthropomorphic than I had expected them to be."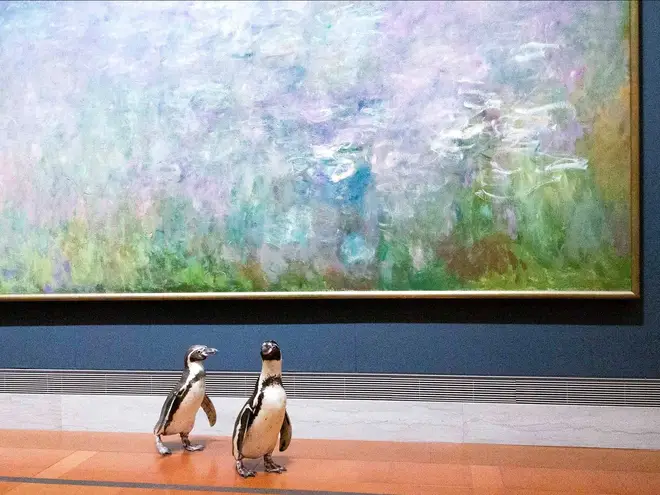 The penguins were welcomed to the gallery while its doors remained closed to the public due to coronavirus.
"We're always looking for a way to enrich the animals' lives and stimulate their days," Randy Wisthoff of Kansas City Zoo says in the video above. "During this shutdown period, the animals have really missed having visitors come and see them."
Apparently the idea started as an April Fools joke, but once a potential benefit to the animals was identified, the zoo and museum teamed up to make it happen. And the penguins seemed to enjoy their visit, waddling off quite happily after their fill of anchovies Caravaggio.