Advent music: 10 best carols and hymns to begin the festive season
25 November 2022, 10:50 | Updated: 25 November 2022, 11:45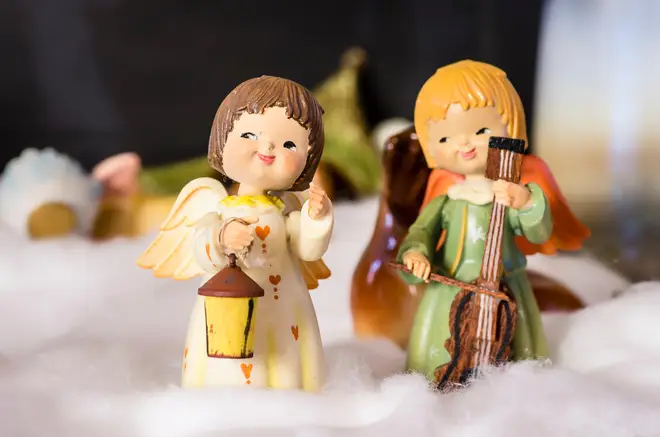 We take a look at some of the best music to mark the start of the countdown to Christmas...
Advent is a time of celebration in the Christian religion, as believers prepare for the birth of Jesus Christ.
The four weeks that lead up Christmas are marked with beautiful and poignant music in anticipation and preparation of the son of God's birth.
From rousing carols to heartening hymns, the following pieces of music are among the greatest melodies to listen to, and sing, during the festive season.
Read more: The 30 greatest Christmas carols of all time
O Come, O Come, Emmanuel

O come, O come, Emmanuel is a Christian hymn for Advent and Christmas. Originally written in Latin (Veni, veni, Emmanuel), its haunting melody goes back as far as 15th-century France.

Read more: What are the lyrics to 'O Come, O Come, Emmanuel', and what is the carol about?

St Catharine's College Girls' Choir perform O Come, O Come Emmanuel

Wachet auf! ruft uns die Stimme

Wachet auf is a lutheran hymn, first published in 1599. It appears in multiple German and English hymnals, however, one of its most famous arrangements is the cantata by J.S. Bach.

The cantata was originally written for the 27th Sunday after Trinity; occurring immediately before advent. In modern times, the cantata is usually performed during Advent.

Bach - Cantata Wachet auf, ruft uns die Stimme BWV 140 - Van Veldhoven | Netherlands Bach Society

I Was Glad

I Was Glad is a popular Anglican carol, sung at multiple times during the year, and at the Coronation of the British monarch.

Its most famous settings include versions by British composers, Henry Purcell, and Hubert Parry.

I Was Glad

I Was Glad, by Sir Hubert Parry ❤️ What an epic piece – performed here by Gabrieli Consort & Players and over 400 performers. Their new album with Paul McCreesh is out today 👉 hyperurl.co/anenglishcoronation

Posted by Classic FM on Friday, May 3, 2019

Of the Father's Heart Begotten

Of the Father's heart begotten is a doctrinal hymn based on a Latin poem, Corde natus.

It is thought to be one of the oldest hymns that many congregations sing.

While mainly associated with Christmas, some musicians conclude that the piece is an appropriate Advent hymn.

Of The Father's Heart Begotten (Sir David Willcocks) Ely Cathedral Choir

Lo, He Comes With Clouds Descending

The popular English hymn appeared on John Rutter's 1993 album Christmas Day in the Morning, and quickly became a Christmas favourite. However, the piece is also a welcome favourite during Advent.

Lo, He Comes With Clouds Descending

Bethlehem Down

Bethlehem Down is a choral anthem written by Anglo-Welsh composer Peter Warlock in 1927.

It is a favourite among many choirs during Advent, Christmastide, and Epiphany.

Bethlehem Down | Genesis Sixteen | Classic FM

Gabriel's Message

Gabriel's Message, also known as The Angel Gabriel from Heaven came, is a favourite Christmas carol and is often sung during Advent and Christmastide.

This lilting carol takes inspiration from Luke 1: 26-38, where the angel Gabriel appears to Mary, telling her she will bear a son named Jesus.

Genesis Sixteen: Gabriel's Message

For unto us a child is born

Another song about Jesus' birth which is sometimes sung at Advent is, For Unto Us a Child is Born from Handel's Messiah.

Handel confidently announces the birth of Christ with a radiant section of his Messiah that quotes St Luke's gospel, 'For Unto Us A Child Is Born'.

Tomorrow shall be my dancing day

This well known carol describes much of Jesus's life in the lyrics, so makes the perfect addition to the Advent repertoire.

Es ist ein Ros' entsprungen

Es ist ein Ros' entsprungen is a beautiful German Advent carol. Translated literally, the title means 'A rose has sprung up'.

The rose in the German text is a symbolic reference to the Virgin Mary, and how she is the rose that has sprung up to bring forth a child.
Listen to Classic FM this weekend as we mark the start of Advent, on Sunday 27 November.