Percy Grainger's peculiar passions
4 July 2014, 16:11 | Updated: 6 January 2017, 14:45
Best known for 'Country Gardens', Australian-born composer and pianist Percy Grainger was a force of nature. For him, music and his personal obsessions were one and the same thing. Here are some of his more peculiar pastimes.
Country Gardens made Percy Grainger extraordinarily rich. It sold more than 40,000 copies a year in the U.S. alone. At one concert, after he had already given 17 encores, he said: "I have to play Country Gardens or they won't go home." He did - and they did.


But there was much more to Percy Grainger than Country Gardens. Edvard Grieg (pictured here with Grainger) considered him to be a musical genius. A re-evaluation of Grainger's music and his peculiar passions is long overdue.
Percy the pianist
Percy despised his instrument. He called it the 'box of hammers'. He neglected his hands so much that they were always calloused. Once, when he was travelling by ship, he enjoyed shovelling coal in the boiler room. The ship's doctor begged Percy to stop so that the whitlows on his hands would heal before he had to perform again.
Percy the tormented son and husband
Percy had a peculiarly close relationship with his mother Rose (pictured). She terrorised any woman who interested her son and tested out his commitment to her with emotional blackmail. Despite rumours that theirs was an incestuous relationship, Rose avoided all physical contact with Percy because she had syphilis. It was only after his mother committed suicide in 1922 that Percy married. He fell for Swedish poet Ella Viola Strom in 1926 and married her two years later at the Hollywood Bowl during a concert interval in front of 22,000 people.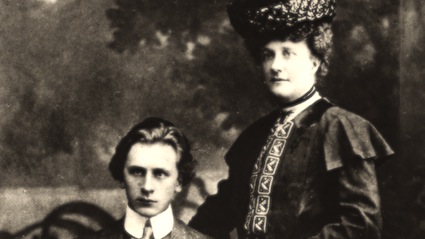 Percy the fashion designer
Grainger designed his own bizarre clothes made from towels. He also invented a forerunner to the modern sports bra. He once put on as many layers of clothing as possible and climbed into the bath to wash them as he undressed layer by layer. When he wore his creations in public he was sometimes mistaken for a vagrant.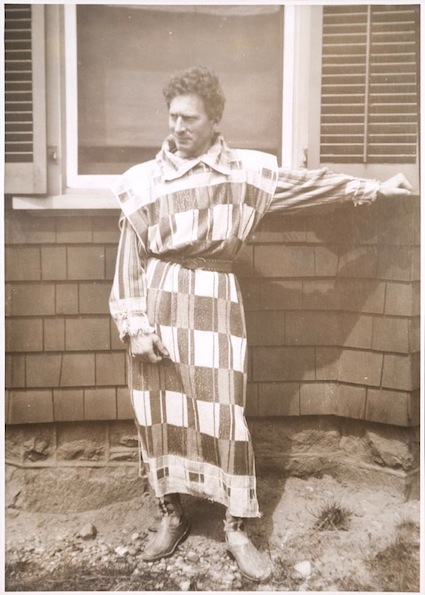 Percy the composer of 'free music'
Percy wondered if music could ever be as unrestrained as the sounds in nature. Years ahead of modern music's most celebrated innovators he messed about with time signatures, used chance to dictate outcomes, and composed unplayable pieces that only an automated pianola could cope with. His innovation of 'elastic scoring', meant that the number of players of a piece could be infinitely increased. The Warriors (1913) requires three conductors to hold it all together.
Percy the 'meat-shunner'
Percy used to provoke his vegetarian friend, composer Cyril Scott, by eating huge slices of roast beef in his presence. But in 1924, Percy gave up meat entirely and labelled himself a 'meat-shunner'. He didn't like vegetables though; he mostly ate fruit pies, boiled rice, ice cream, oranges and cream cakes. He was also a lifetime teetotaller.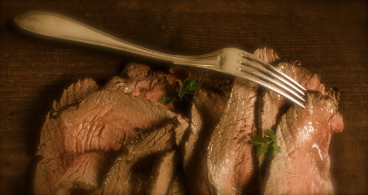 Percy the whip enthusiast
Percy's most peculiar passion was for the whip. His father had beaten Rose, and Rose had beaten Percy. Later Percy's wife Ella joined in. Percy said his creativity was inseparable from his sex drive. A play was produced in Melbourne in 1982 called A Whip Round for Percy Grainger.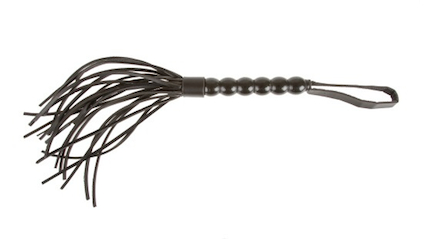 Percy Grainger - museum piece
Percy put aside considerable sums of money for the University of Melbourne to establish a museum about his life. He sent it more than 40,000 items of correspondence, as well as shopping lists, vegetarian recipes and his collection of more than 80 whips, some made from recycled conductor's batons. His wish for his skeleton to be placed in the museum was refused on grounds of public decency.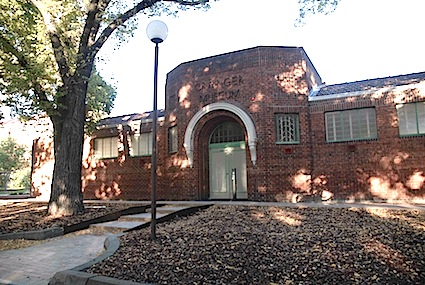 Percy the film star
This bizarre life - in particular Percy's relationship with his mother Rose - was brought to the screen in the 1999 film Passion starring Richard Roxburgh and Barbara Hershey. Percy also pops up, played by David Collings (pictured left), in Ken Russell's 1968 dramatised life of Delius, Song of Summer.