The great Tony Bennett is 90. Here's just one moment of superlative music-making from the legendary crooner
3 August 2016, 10:44 | Updated: 6 January 2017, 14:45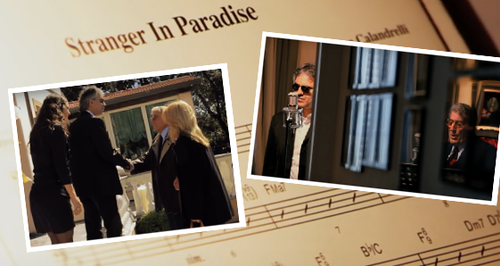 Celebrate the 90th birthday of the great singer with this classic duet featuring Andrea Bocelli
Tony Bennett – born Anthony Benedetto – went back to his Italian roots in 2011 when he took a trip to opera star Andrea Bocelli's home to record this classic duet: a unique version of Stranger in Paradise from the musical Kismet, set to the music of Borodin.
Apart from being Italian, Bennett has a curious connection with opera. Not only did he initially consider being an opera singer, his biggest hit, I left my heart in San Francisco, was originally written in the early 1950s for Metropolitan Opera star contralto Claramae Turner. Not a lot of people know that.
Watch: Andrea Bocelli played flute at his home for Classic FM >
Pictures: Andrea Bocelli gave us a tour of his home >
Happy 90th birthday Tony Bennett. May you be singing those standards for many more years still to come.