Who is Kristin Chenoweth? Movies, height, age and net worth
15 March 2019, 17:18 | Updated: 19 March 2019, 11:27
Kristin Chenoweth is a musical theatre star and vocal power house who has credits in Glee, Pushing Daisies and The West Wing. From her height to her TV and movie credits, here's all you need to know.
Kristin Chenoweth, born Kristi Dawn Chenoweth, was born on 24 July 1968 in Broken Arrow, Oklahoma (US). The actress and singer, 50, has seen huge success across musical theatre, film and television. In 1999, she won a Tony Award for her performance as Sally Brown in You're a Good Man, Charlie Brown on Broadway.
Famous for singing 'The Girl in 14G' and 'Taylor the Latte Boy', Chenoweth is particularly known for having originated the role of Glinda in Wicked alongside Idina Menzel – which saw her nominated for another Tony Award.
She currently sits on the judging panel for ITV's All Star Musicals, a new TV show starring a cast of celebrity contestants hoping to impress the judges with songs from musicals.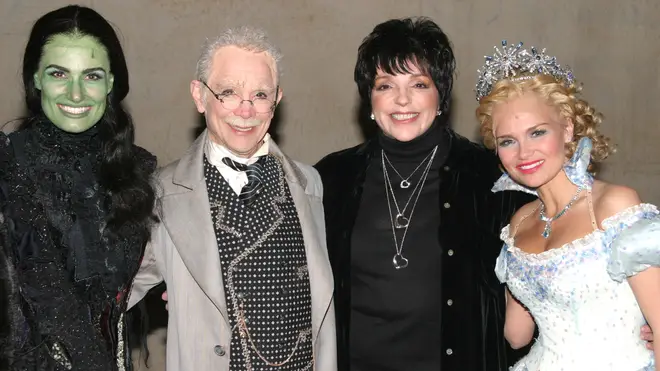 Kristin Chenoweth's background

At just five days old, Kristin was adopted by Junie Smith Chenoweth and Jerry Morris Chenoweth. She has said she has one quarter Cherokee ancestry.

As a child, Chenoweth grew up singing gospel music in Oklahoma. She went on to study opera, before deciding to pursue a career in musical theatre.

Chenoweth made her Broadway debut in 1997 in the musical Steel Pier, for which she won a Theatre World Award. Two years later, she performed in the Broadway revival of You're a Good Man, Charlie Brown and won a Tony Award for Best Featured Actress in a Musical.

Kristin Chenoweth won a Tony Award in 1999. Picture: Getty

How tall is Kristin Chenoweth?

Kristin is just four feet 11 inches tall (that's around 150cm).

Kristin Chenoweth's TV appearances

Around the year 2000, Chenoweth started to branch out into television and film roles. She also released her first solo album, Let Yourself Go (2001).

Her best-known TV appearances include Annabeth Schott in NBC's The West Wing and Olive Snook in ABC's Pushing Daisies, for which she won a 2009 Emmy Award for Outstanding Supporting Actress in a Comedy Series.

She has also received Emmy nominations for her guest star appearances on both Sesame Street and Glee.

Chenoweth was nominated for an Emmy for her Glee appearance. Picture: Getty

Kristin Chenoweth's movies

Chenoweth has played supporting roles in a handful of films, including The Pink Panther and Deck the Halls. She also played Maria Kelly in the 2005 film version of Bewitched.

The actress, who has voiced Fifi in The Peanuts Movie (2015) and Princess Skystar in My Little Pony (2017), has famously said she dislikes the sound of her speaking voice.

Speaking during an Ask Me Anything session on Reddit, she said: "I feel like I sound like a bug too. I feel like a combination of Betty Boop, Marilyn Monroe, and a five year old."

What is Kristin Chenoweth's net worth?

According to celebritynetworth.com, Kristin has a net worth of $16 (£12) million.