Violinist with prosthetic arm shows incredible power of science and music
21 February 2020, 15:41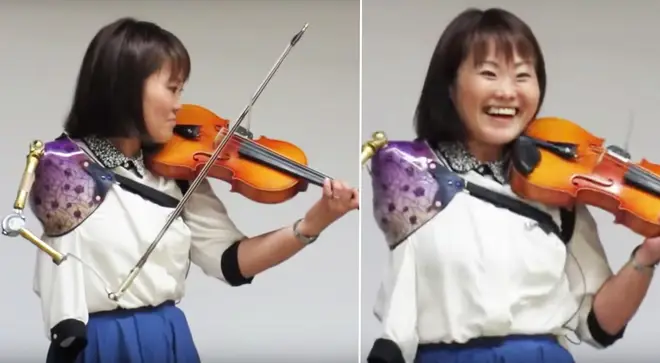 Violinist Manami Ito lost her arm in a traffic accident and feared she would never play again. Now, thanks to a customised prosthetic, that's all changing.
Manani Ito is an extraordinary, Japanese-born violinist, who plays with a prosthetic arm.
Aged 20, Ito tragically lost her right arm in a car accident in 2004 while studying to become a nurse, and was convinced her days as a violinist were over.
After surgery, she went to collect her prosthetic arm at a facility and noticed that other people with similar disabilities were using their artificial limbs to play sports, such as basketball.
Spurred on, Ito spent hours practising her instrument with her prosthetic arm and developed a unique new way of playing.
Read more: Musician plays violin while surgeons remove tumour from her brain >
To use her prosthetic to play, Ito has a harness and cable attached around her left shoulder, allowing that shoulder to control all her movement.
She also has a customised prosthetic bow to allow her to play with more precision, which she describes as "lightweight and cool".
Read more: Teenage pianist with rare muscle disease has incredible Chopin videos >
Since mastering her new art, Ito has appeared on several TV programmes – including James Corden's popular talent show, The World's Best.
"I lost all hope," she told viewers. "I left school and didn't leave the house for a year. Something that really stuck with me was, my mother said, 'Please play the violin again for me someday.' I'm very excited for people to listen to me."
Following her performance, she was hailed by Corden as "the miracle violinist", and brought judges Faith Hill, RuPaul and Drew Barrymore to tears.
The Miracle Violinist That Had Judges in Tears - Manami Ito's World's Best Audition
Barrymore said: "I think not only are you talented but your perspective on life is something that the world definitely needs."
RuPaul added: "It was absolutely beautiful and it really made me proud to witness your grace and your way of overcoming adversity. This is a lesson that every human alive needs to learn."
And Ito's talent and determination, it transpires, are not limited to the world of music.
As well as travelling around Japan sharing her passion for music, the nurse has also become a Paralympian swimmer, coming 4th in the 100m Breaststroke at the 2008 Beijing Paralympics and 8th at the 2012 London Paralympics.