This recording of one of the world's greatest early violinists is utterly stunning
21 February 2017, 09:32 | Updated: 23 February 2017, 10:51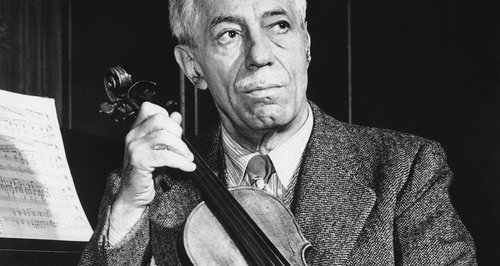 Fritz Kreisler would have been 142 years old this month, and this recording shows him at his very best.
World renowned Austrian violinist Fritz Kreisler (1875-1962) began his performing career at the young age of 13 and not long after began touring around America in 1889, a long way from home for a young boy in the late 1800s.
These tours around America and performing alongside the Berlin Philharmonic Orchestra established his stardom early in life and in 1910 he premiered Elgar's Violin Concerto, which was then dedicated to him by the British composer.
As well as being known for his stunning tone and perfect phrasing, Kreisler also composed string quartets, operettas, short solo pieces and even a movie soundtrack.
The video below features two recordings of one of his own pieces 'Liebeslied'. The two clips were recorded 12 years apart - the first in 1930 and the second in 1942. Some listeners believed they could hear the improvement in the latter clip, whereas others felt that the first clip had a lot more passion. Which do you prefer?