Riot police hit with lawsuit over violent response to violin vigil for Elijah McClain
27 July 2020, 17:31 | Updated: 27 July 2020, 17:36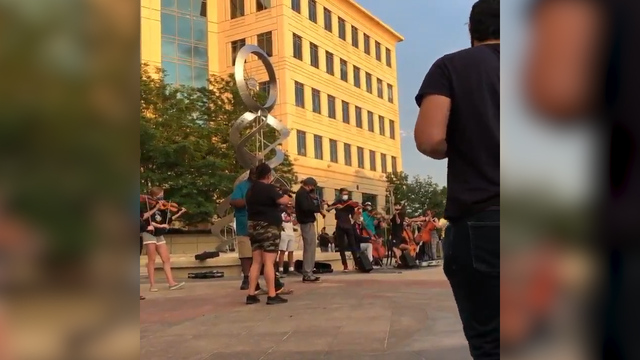 Cops arrive at peaceful Elijah McClain violin vigil
Attorney's statement says police "indiscriminately unleashed chemical agents and projectiles" in a violent end to June's violin vigil.
Aurora police have been hit with a federal lawsuit over their response to last month's vigil for Elijah McClain.
Community leaders filed a lawsuit on Thursday against the city's police department in the state of Colorado, accusing them of unconstitutional treatment when they abruptly broke up a protest and peaceful violin vigil for Elijah McClain.
On Saturday 27 June, several thousand people had marched and gathered in the centre of the US suburb, to remember the young black man and campaign for justice following his death.
McClain died after being placed in a chokehold and injected with a sedative during an encounter with officers last August. The 23-year-old was a massage therapist and a keen musician who played violin for shelter kittens on his lunch breaks.
String players and singers had gathered to remember McClain in music, giving impromptu performances during a day-long vigil.
"Aurora's deployment of riot police, who indiscriminately unleashed chemical agents, projectiles, and batons on peaceful protesters celebrating Elijah's life and calling for justice at a violin vigil, is part and parcel of the same brutality, racism, and disregard for the Constitution that caused them to murder Elijah," attorney Mari Newman said in a statement.
At 8.30 pm, riot-gear-clad police could be seen approaching the ensemble. In a video shared on Twitter, one peaceful protester can be heard saying "no, no, no", against the sound of the music.
Read more: Cellist plays heartrending 'Dido's Lament' in memory of George Floyd >
According to the Sentinel Colorado, Aurora police deployed pepper spray and four rounds of rubber bullets against the crowd. Police say protesters were throwing rocks and bottles at officers.
In other videos filmed by those attending the vigil, people can be seen making a ring around the musicians, with their arms raised in a gesture of non-conflict.
Police were then reported to have forced the crowd to leave the park. But, as they moved through a car park, one violinist climbed on top of a car to continue the musical solidarity. A large crowd then gathered in the car park and protesters can be heard playing and singing together into the night.
Violinists from around the country. Of all ages and races tonight. 🖤✊🏽 #ElijahMcclain #Leeenglandjrviolinist #auroracolorado

Posted by Kianna Crowe on Saturday, 27 June 2020
Elijah McClain was a 23-year-old black man from the Denver suburb of Aurora. While walking to a store on 27 August 2019 he was confronted by police officers, who put him in a chokehold and injected him with a sedative.
McClain subsequently suffered cardiac arrest on the way to the hospital and was taken off life support three days later. Investigations by Aurora police and a district attorney produced no charges for the officers involved.
In the wake of protests after the death of George Floyd, Elijah McClain's case has been seen as another example of excessive force causing death to a person of colour.