This dog ATE her owner's violin
10 October 2019, 11:35 | Updated: 25 October 2022, 17:37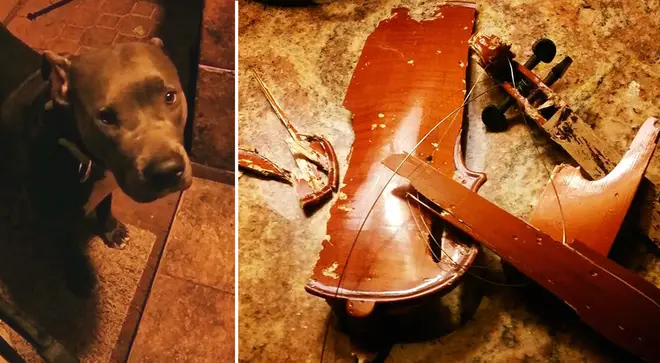 You've heard of 'my dog ate my homework' – now get ready for 'my dog ate my violin'.
A very greedy puppy has eaten a violin, and is trying to get away with it by looking cute.
The pit bull, weighing around 78 pounds, ravaged the 1/16-size violin after chewing through a closet door and a violin case.
Only the back of the instrument's body remains intact, with the neck, fingerboard and strings all ripped off.
Cellist Armen Ksajikian posted a picture of the decimated instrument to Facebook.
He said: "Never a good idea to have a pit bull begin violin lessons!... At least until they're about hundred pounds!"
After a slew of concerned comments about the puppy's violent tendencies, Armen decided to reassure people.
"For a brief moment she had to be kept in a room where she chewed through the closet door, violin case to get to her 'lunch'... it's really no big deal!"
Watch more: The time a presenter dropped his microphone INTO a sousaphone >
"There are plenty more of those little violins in the closet! I'll take the 'blame' for posting this!"
Just don't let her near your sheet music collection...