Iconic trumpet topples from Mormon temple's angel statue in Utah earthquake
19 March 2020, 12:40 | Updated: 23 March 2020, 09:07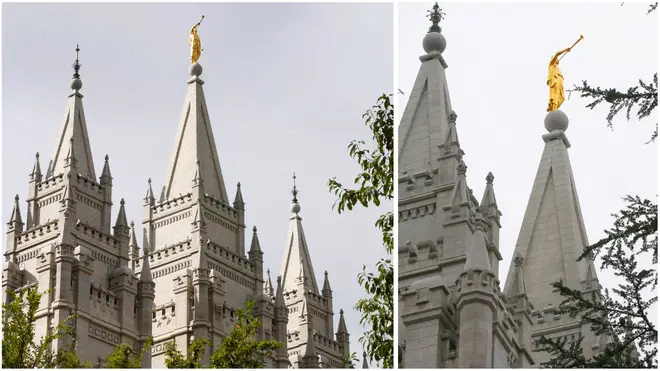 The golden trumpet, once clutched by the temple's angel statue, is lost since an earthquake shook the iconic Salt Lake City building on Wednesday.
An earthquake in Utah has damaged a Mormon temple, knocking down a trumpet which had been held by a statue of the angel Moroni on its top spire.
The 5.7 magnitude quake shook Temple Square in Salt Lake City on Wednesday morning, causing the trumpet to fall from the hand of the copper and gold leaf statue and onto the roof of the temple.
Its landing, at the base of its spires, can be seen in the aerial photos below.
The statue sits atop the tallest spire of the famous temple, which is the global headquarters of The Church of Jesus Christ of Latter-day Saints.
Read more: Quarantined trumpeter plays beautiful 'Imagine' solo from balcony in Italy lockdown >
Daniel Woodruff, a spokesperson for the church, confirmed: "The trumpet on the Angel Moroni statue fell off, and there is minor displacement of some of the temple's smaller spire stones."
The temple had been closed to the public when the incident occurred, and there were no injuries following the earthquake.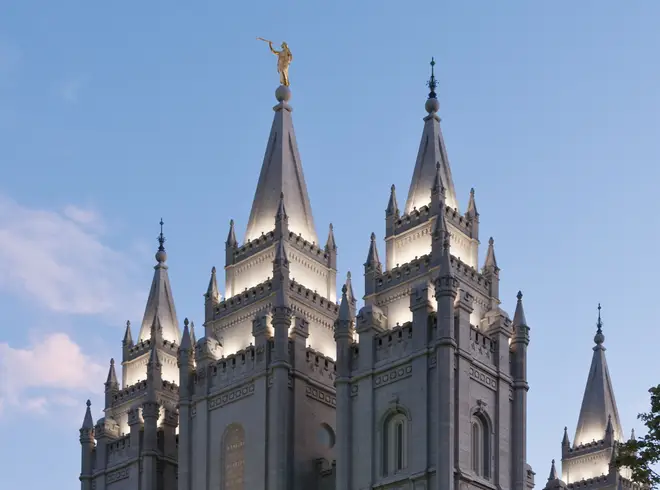 The Angel Moroni is a symbol of faith and, according to the church, this particular temple was the first to be topped with the statue.
Latter-day Saints believe that the angel visited the founder of their religious group, Joseph Smith, on numerous occasions.
According to Smith, Angel Moroni was the guardian of the golden plates, which are believed by Latter-day Saints to be the source from which Joseph Smith translated the Book of Mormon.