A random guy played incredible piano at an antique store, so they gave it to him
20 July 2020, 17:08 | Updated: 20 July 2020, 17:11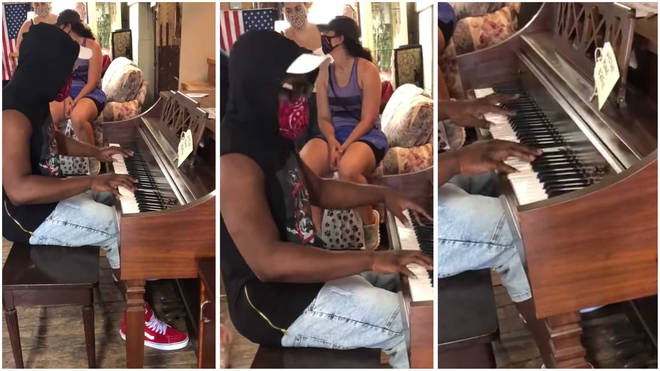 If you ever need inspiration from a random act of kindness, this incredible shop owner donating a Steinway to a complete stranger should do the trick.
A mystery man recently went viral after treating customers in a Massachusetts antique store to an impromptu piano performance of Journey's rock hit, 'Don't Stop Believing' – and now, the owner of the store has given the musical instrument to him for free.
Known as ReMARKable Cleanouts, the store in Norwood, Massachuesetts sells everything from jewellery and household items, to furniture and home decor – but after walking around the warehouse, the masked musician (courtesy of COVID-19) only had eyes for the Steinway.
Despite there being a 'Do not play' sign displayed above the instrument, the man asked one of the workers, Melissa Rediker, for permission to play and was pleased to hear she'd make an exception.
Customers were quick to rave about his cheerful show (watch below) and others even joked that the shop owner, Mark Waters, should hire him – but the man left before anyone had a chance to take his name.
Incredibly, Waters used the power of social media and a few news broadcasts to track down the mystery pianist – 23-year-old architecture student, John Archer – and quite frankly, it's restored our faith in humanity.
Read more: 98-year-old woman is playing the piano for 100 days to raise money for NHS >
Young man asked permission to play and I asked permission to post the video. It's a great day here at the mill! Come on down!

Posted by ReMARKable Cleanouts on Saturday, 11 July 2020
First, Waters shared a video of Archer's uplifting rendition of the tune on social media, and it got an impressive 360,000 views on Twitter and 14,000 on Facebook.
The generous shop owner also enlisted the help of Juli McDonald at WBZ Channel 4, who interviewed him during an evening news programme, and told CBS Boston: "We'll give him the piano. Bring the kid in! We'd be more than happy to bring it to him. We can't find him! Nobody knows who this young man was."
And his efforts paid off. After hearing about the clip and being gifted the beautiful instrument, Archer told The Boston Globe: "My girlfriend sent me a text that the media was looking for me. I didn't know so many people would be affected by watching me play – I'm just baffled!"
Speaking to WCVB, the Mattapan-based student added: "These pianos go for like thousands of dollars, even the older models. I definitely cannot turn that down! This will be the first piano I've ever owned. It's amazing – the weight of the keys is perfect."
Since then, Archer has returned to Waters' antique store and played John Legend's 'All of Me' on the old Steinway, while the pair figure out a way to deliver it to his fourth-floor apartment.
Waters said: "He's a good young man and I'm glad he gets to have the piano. If it brings joy into his life, that brings joy into my heart."