98-year-old woman is playing the piano for 100 days to raise money for NHS
28 May 2020, 16:49 | Updated: 28 May 2020, 17:38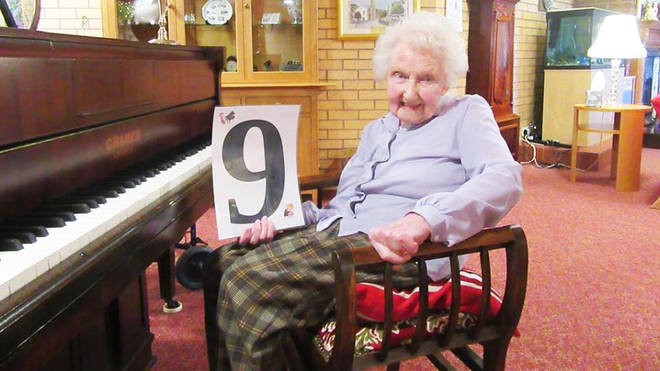 100 days of playing the piano for the NHS. Aren't pianists wonderful…
A 98-year-old woman is warming hearts across the country by playing the piano every day for 100 days, to support the NHS during the coronavirus pandemic.
The keen pianist, Rebecca Parker, was inspired to carry out the kind gesture after hearing the news of Second World War veteran, Colonel Tom Moore – who recently raised over £32 million for the NHS in the run up to his 100th birthday by walking 25m lengths of his garden in Bedfordshire.
Mrs Parker, who also learned to play the violin and accordion in her youth, is performing the special tribute on a baby grand piano at the McClymont House care home where she is resident in Lanarkshire, Scotland.
She told The Church of Scotland: "My mother was a fine pianist and she taught me. I get a fine big cushion to sit on and I like to play some Scottish tunes."
Click here to view the NHS's latest coronavirus advice >
Read more: Captain Tom tops the chart with 'You'll Never Walk Alone' charity duet with Michael Ball >
Despite having arthritis in both hands, the great-grandmother and former primary school teacher is already making excellent progress on her musical quest (started on 22 May), with all proceeds going towards Lanarkshire Health Board Endowment Funds.
Rev Dr Elijah Obinna, minister of St John's Parish Church (where Mrs Parker attends regularly) has described her as an "amazing lady".
He continued: "Each time I visit her and sit and listen to her stories, her testimony, I leave feeling really inspired. She has an amazing heart and is very godly. I am very impressed, proud and excited that she is raising money for the NHS in this way."
Read more: Coronavirus quarantine: 21 classical music activities for self-isolating families >
Charles Delaney, manager of McClymont House, added: "The fact that she is 98 and still determined to continue helping people in the wider community is inspiring."
So far, an impressive £2,284 has been raised of Mrs Parker's £1,000 target – and she's certainly not done yet.
To donate and support the NHS during the coronavirus pandemic, visit justgiving.com.