Virtuosic pianist rescues a piano, drags it to the sea and plays 'How Far I'll Go' from Moana
21 December 2017, 15:06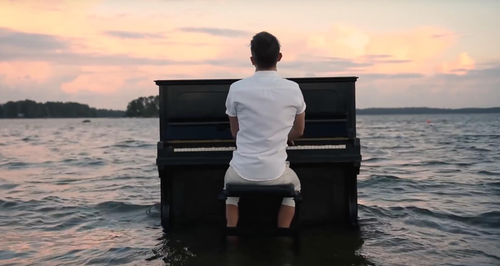 When a pianist saw this instrument about to be turned into firewood, he decided to rescue it and take it to the sea to create this beautiful video.
The soundtrack to Disney's Moana has soared to popularity since its release in November last year. It was composed by the Samoan musician Opetaia Foa'i, Mark Mancina (who worked on The Lion King) and Hamilton composer Lin-Manuel Miranda.
The film's sea setting also happened to be the perfect place for Adam Herd to take this piano, to play the title track 'How Far I'll Go'.
Adam and his friend found the piano at a dump, where it was about to be scrapped for firewood. Pained by the idea of the 104-year-old instrument being destroyed, they decided to take it to the sea in Finland.
Despite having to dunk his feet into freezing Finnish waters to reach the pedals, Adam plays the tune beautifully. "The biggest challenge was figuring out how to keep the bass strings dry!" he says on his YouTube channel.
Nicely done, Adam. Find the sheet music on his website.
Watch Ludovico Einaudi play piano on an iceberg as an Arctic glacier crumbles around him...