Current obsession: this descending scale in Beethoven's Piano Concerto No. 1
10 January 2020, 12:12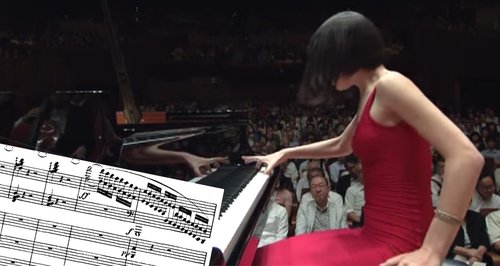 Not just any old scale – a huge, fortissimo scale in octaves. And Alice Sara Ott makes it look (and sound) SO awesome.
German-Japanese piano virtuoso Alice Sara Ott is known for saying "music was the language that goes much beyond any words" – and it's safe to say we are lost for words after watching just one moment of her exceptional playing.
In the video below, she plays Beethoven's Piano Concerto No. 1, an early work rooted in the classical style. But in 1797, Beethoven was already pushing the boundaries and doing things that just sounded so cool.
Deep into the first movement, the mood is serene and with softly probing woodwind, but then everything erupts with a high F octave, at ff (all the Fs, so you know it's good).
Then, cue a thrilling C major descending scale and a return of the concerto's triumphant main theme.
It's a wonderful moment in music. But just witness how completely badass Ott makes it sound, with a scale-turned-glissando full of passion and power. Jump directly to the moment at 9'30" here.
Feeling in the mood for more Beethoven? On Saturday nights from 9pm to 10pm, John Suchet presents Beethoven – The Man Revealed, a year-long series about Beethoven's life, celebrating 250 years since the great composer's birth.