A grandmother played 'Auld Lang Syne' on piano amid debris of Beirut explosion
6 August 2020, 11:11 | Updated: 6 August 2020, 15:02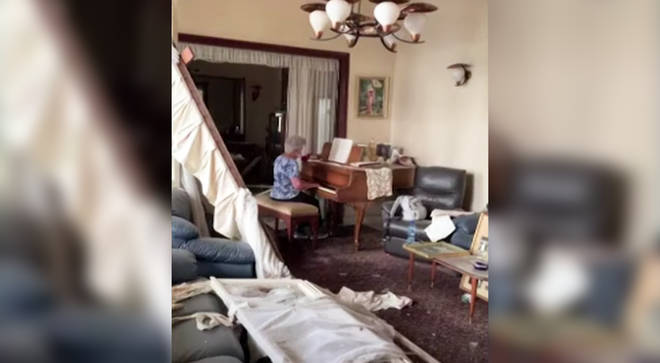 In the dark days following the devastating blast that shook Beirut, music brings comfort to a mourning citizen.
A Beirut resident has been captured playing the piano in her apartment, which was devastated by the major explosion that tore through the Lebanese capital on Tuesday.
Hoda Melki films her mother as she sits in front of a grand piano, softly playing 'Auld Lang Syne'.
She is surrounded by the debris and devastation of her broken home, just a day after the blast.
A two-week state of emergency has been declared in the country following the huge explosion earlier this week, which has killed at least 137 people and injured around 5,000 others. Dozens more are still missing, the BBC reports.
Robert Burns' traditional folk song echoes throughout the apartment as the camera pans to reveal shattered glass, a collapsed curtain rail and toppled furniture.
Up to 300,000 homes have been damaged from the explosion that tore through Beirut's port.
Even in the darkest of moments, it seems, music can still offer an unwavering source of light.