Remembering Captain Sir Tom Moore with his deeply inspiring 'You'll Never Walk Alone' duet
25 April 2020, 14:36 | Updated: 2 February 2021, 16:52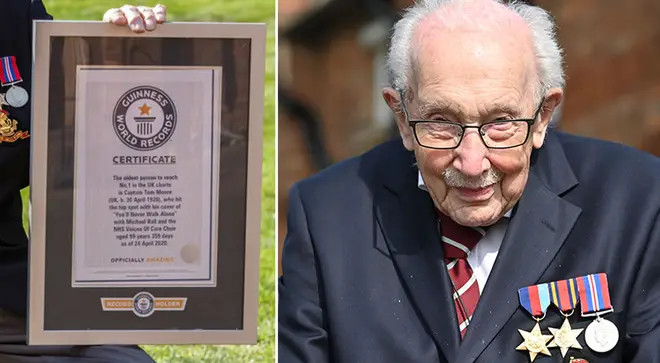 A wonderful musical offering, from a national treasure. Rest in peace, Captain Sir Tom Moore.
Captain Sir Tom Moore, who raised almost £33 million for the NHS, has died after testing positive for COVID-19.
The 100-year-old veteran inspired a nation at a time of pain and uncertainty. He also made his mark on the music world.
At the age of 99, Captain Sir Tom Moore unexpectedly became the oldest artist to claim a UK No.1 single.
His cover of 'You'll Never Walk Alone', recorded with musical theatre star Michael Ball and the NHS Voice of Care Choir, was released to raise money for the NHS and quickly became the fastest-selling single of 2020 with 82,000 copies sold.
Speaking from his home in Bedfordshire at the time of the win, where he lived with daughter Hannah and her family, the veteran said: "What wonderful news to receive today, a No.1 single and a record-breaker too.
"My grandchildren can't believe I am a chart-topper!"
Captain Tom broke a second Guinness World Record with his music-making, after breaking his first by raising the most money ever from an individual charity walk.
You'll Never Walk Alone - Captain Tom Moore, Michael Ball & The NHS Voices of Care Choir
Moore, a Second World War veteran and former British Army officer, captured the nation's hearts after raising millions for the NHS by walking 25m lengths of his family's garden in Bedfordshire.
The centenarian had originally aimed to raise £1,000 to help fight the coronavirus pandemic, by walking 100 laps to mark his 100th birthday on 30 April 2020. He vowed to carry on for as long as the donations keep going in.
Read more: Katherine Jenkins and Vera Lynn duet on 'We'll Meet Again' for NHS >
Moore was formally knighted in July by the Queen, in an open-air ceremony at Windsor Castle.
Rest in peace, Captain Sir Tom Moore.
At 5pm on Classic FM, we'll be playing a musical tribute to Sir Tom. Join us for a beautiful arrangement of Dame Vera Lynn's 'We'll Meet Again' and music to remember a life that touched so many – listen here.