9 greatest times the FLUTE was used in rap music
10 February 2020, 17:14 | Updated: 10 February 2020, 17:31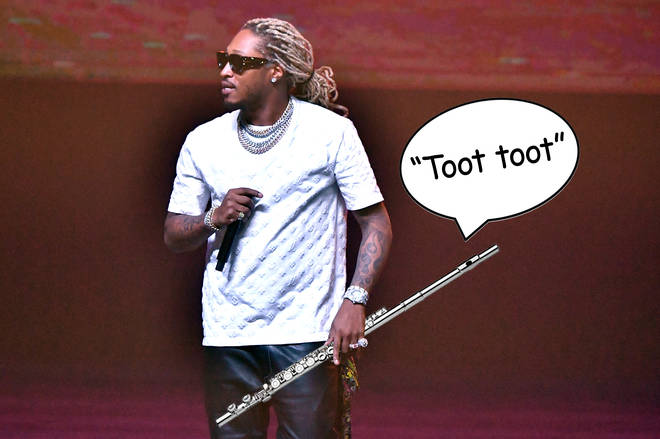 Flute and rap: it just works, okay. And here's the definitive list of where it has worked best…
Rappers seem to love using the flute in their tracks and, frankly, we don't hate it.
In fact, the best rap and hip-hop is usually lifted by the appearance of a flute – we're looking at you, Queen Lizzo.
Without further ado then, here's our… ahem… rap sheet of the best instances of flute used in rap.
Read more: Lizzo the hip-hop flautist is bringing classical music to new audience >
Flute Loop – Beastie Boys

This one's in for pure novelty.

Guys, it's the 'Badinerie' from Bach's Orchestral Suite No. 2 in B Minor – *remixed*.

And, like, crazy re-mixed. We're still not sure what we think, but what it lacks in Bachian poise, it certainly doesn't lack in energy, enthusiasm and downright flute-heavy beats.

Hot – Young Thug ft. Gunna & Travis Scott

Fairly extended flute passages punctuate the Young Thug's 'Hot' and those passages have a lovely, warm tone.

Iterated in the middle octave a few times, these also get taken down an octave and repeated with a nice round first-octave tone.

The instrument also contributes to a breathy chord stab that heightens the track's rhythmic feel.

How I Move – Flipp Dinero ft. Lil Baby

The flute gets a pretty big opening solo in Flipp Dinero's 'How I Move'.

So kind of like the opening of Debussy's Prélude à l'aprés midi d'une faune. But different.

Gotta Have It (Official Remix) – JAY-Z, Kanye & West

There's some strong repetitive quasi-flute in JAY-Z and Kanye's 'Gotta Have It' from the huge 2011 album Watch The Throne.

It's almost infuriatingly repetitive, but providing the backbone to the track as it does somehow really works.

The South – Cunninlynguists

You're going to listen to this one and just think, "Woah. Flute."

It's flute galore: more slick, funky, jazz-flute riffs than you ever thought you needed. This one's worthy of any fluting fiend.

Truth Hurts – Lizzo

We couldn't not include current reigning Queen of Flute, Lizzo.

When the rapper performs 'Truth Hurts' live, she usually has her trusty Sasha flute by her side (or floating down to her from the ceiling) and performs a series of flute trills in between her rhymes.

Portland – Drake ft. Quavo & Travis Scott

The flute used in Drake's 'Portland' has a thinner tone, more like that of a recorder. It's a repetitive and rustic motif like others for flute he uses. We likey.

Praise The Lord – A$AP Rocky ft. Skepta

The flute is the star of A$AP's 'Praise The Lord'.

It's a pan pipe-y timbre, we agree, but it's flute repping through and through. We appreciate it, A$AP.

Mask Off – Future

Future's 'Mask Off' doesn't cover the most savoury of themes but it has the most simple-yet-sublime flute sample repeated throughout.

The acoustic flute motif casts off an initial lower octave version of itself, then repeats constantly in a mind-bendingly hypnotising track accompanying Nayvadius DeMun Wilburn AKA Future's rhymes.

It's so nice (and definitely one of 2017's best songs).