This is the amazing story of Baroque composer Barbara Strozzi
31 January 2020, 16:38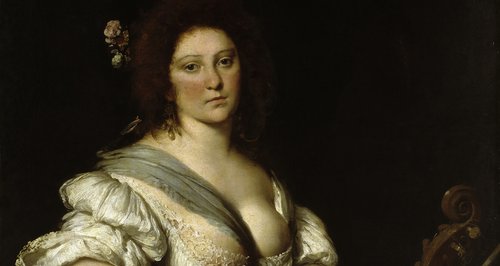 This is the amazing real-life story of the Venetian composer Barbara Strozzi (1619-1677) who became one of the first women to have her music published in her own name.
By Victoria Longdon. Picture: AKG Images
Born in 1619 in Venice, Barbara was the illegitimate daughter of the renowned poet Giulio Strozzi, and spent her life in very liberal circles within 17th-century Venetian Society. Her father encouraged her talents, arranging performances which would showcase her work and sending her to study composition with Francesco Cavalli.
Read more: Vote for your favourite music and win £1,000 >
Most of her work is written for accompanied female voice. She was a capable lute player and developed a reputation as one of the best singers of the time for her performances at private concerts around the city.
Her music is striking for several reasons. First, and perhaps because of the influence of her poet father, Strozzi took tremendous care taken over the setting of the texts, creating a really intimate relationship between the words and the music.
Discover more inspiring women from the history of classical music here >
Second, her harmony is really… quite wacky. The lament for soprano, 'L'eraclito Amoroso' is a perfect example. The song is a chaconne – slow and in triple time – and it involves variations on a harmonic progression. Strozzi draws out all the dissonances in this tragic music, writing hesitations and mournful embellishments into the singer's line.
The final phrase contains the only written figure in the entire manuscript, a B sharp in the accompaniment, deliberately marked against the soprano's sustained B natural. This means that as the soprano sings 'kill me' there would have been a deliberate clash between the soprano and her accompaniment. Deep, huh? Listen from 06:50.
Barbara Strozzi was a big name in 17th-century Italy, hailed as the most prolific composer of printed secular vocal music in Venice. But frankly, it was amazing that she was ever a 'name' in the first place.
Most women of the time were obliged to use a male pseudonym in order to get their creative works in print. Not Barbara. She put her own name to everything she wrote, making her one of the first female writers of secular music to publish in this way.
And to top it all off, she was also a single mum to three children – apparently out of choice rather than necessity, which was virtually unheard of for the time.
Some accounts have claimed that she was a courtesan, but this is very unlikely to be true, and the reports are probably spurred on by the most famous portrait of her (at the top of the page), in which she appears to have had an unfortunate wardrobe malfunction.
In reality, the uncovered breast is likely to show her motherhood and her artistic temperament rather than her loose morals!
Babara was a forward-thinking entrepreneurial and independent woman who ingenuity shone through in her life and in her music.
A prolific female composer and single mum in 17th-century Venice, Barbara Strozzi was so ahead of her time that she makes Marty McFly look like an amateur.
Don't miss a rare performance of Strozzi's music by the Orchestra of the Age of Enlightenment and soprano Mary Bevan on 10 January at King's Place