Album reviews and new releases: music for the Queen, new Alison Balsom and a Jane Austen movie soundtrack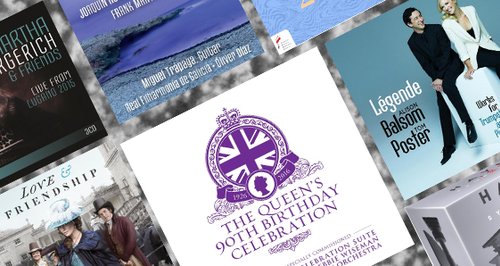 Throughout the week Classic FM's presenters bring you the best new recordings, including world exclusives and premiere broadcasts of latest releases.
AV2362
AV2362
AV2362

Join John Suchet after 10am each weekday morning to hear a track from the Album of the Week.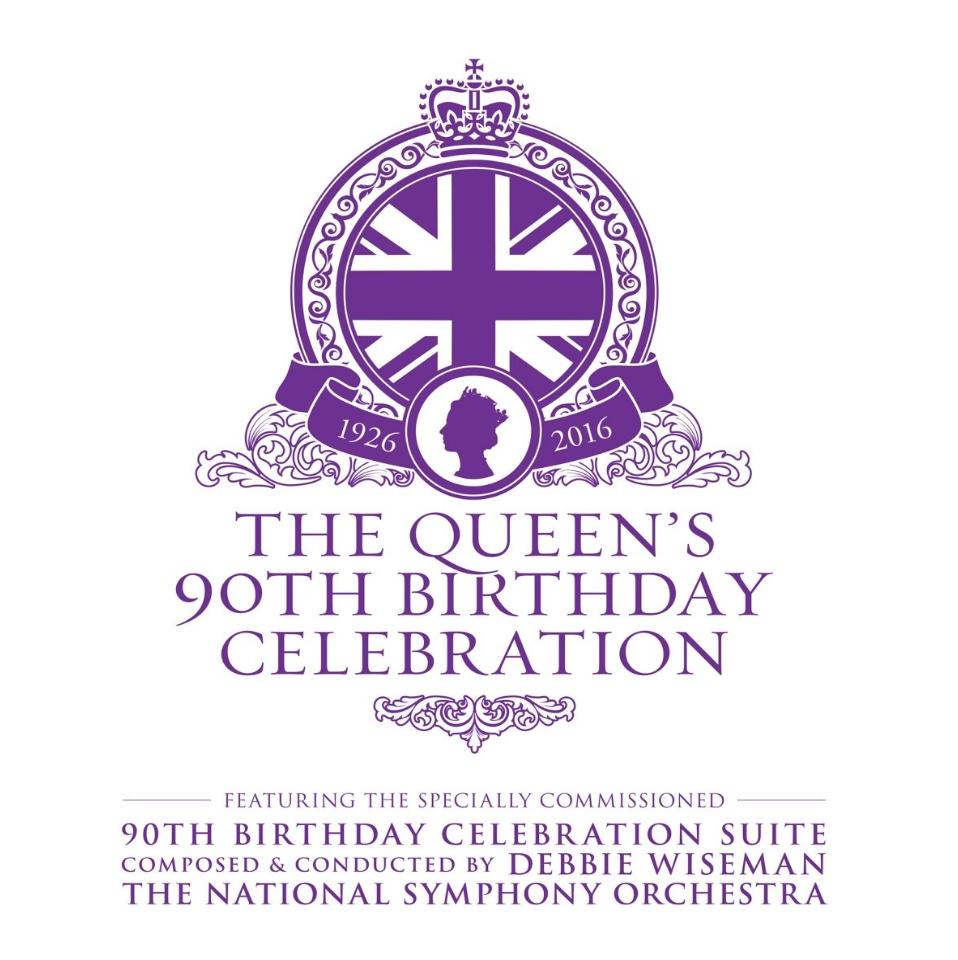 The Queen's 90th Birthday Celebration
National Symphony Orchestra/Debbie Wiseman
Silva Screen SILKD6052
Classic FM's Composer in Residence Debbie Wiseman was specially commissioned to compose a five-movement suite to mark HM The Queen's official 90th birthday celebrations, 13-15 May 2016. This album features the suite along with other patriotic favourites, including Zadok the Priest, Crown Imperial, and Nimrod. The suite is full of stirring themes and fine brass playing, reflecting various aspects of Her Majesty's life including musical evocations of Buckingham Palace, Royal Ascot, Sandringham and Windsor. There's also a touching version of I vow to thee my country sung by musical theatre actress, Helena Blackman, best known for being the runner-up in television, How Do You Solve A Problem Like Maria?

Download from iTunes >
Buy from Amazon >

After 6pm each weekday evening, John Brunning showcases a track from his Drive Discovery, a fantastic new release.
Love & Friendship - Original Soundtrack
Dianne Marshall (harp)/Irish Film Orchestra/Mark Suozzo
Sony Classics
This is music from the new film Love & Friendship, based on a Jane Austen novella Lady Susan. The story was written between 1793 and 1805 but its producers opted for music from an earlier period which seemed to better reflect the spirit of the piece. Handel, Purcell, Boyce, Mozart, Vivaldi and other composers of the era are included here alongside Paris-based composer Benjamin Esdraffo who wrote additional tracks, including the opening titles' harp theme and Baroque-style incidental music. A feast for the ears as well as the eyes.
Download from iTunes >
Buy from Amazon >

Critic's Choice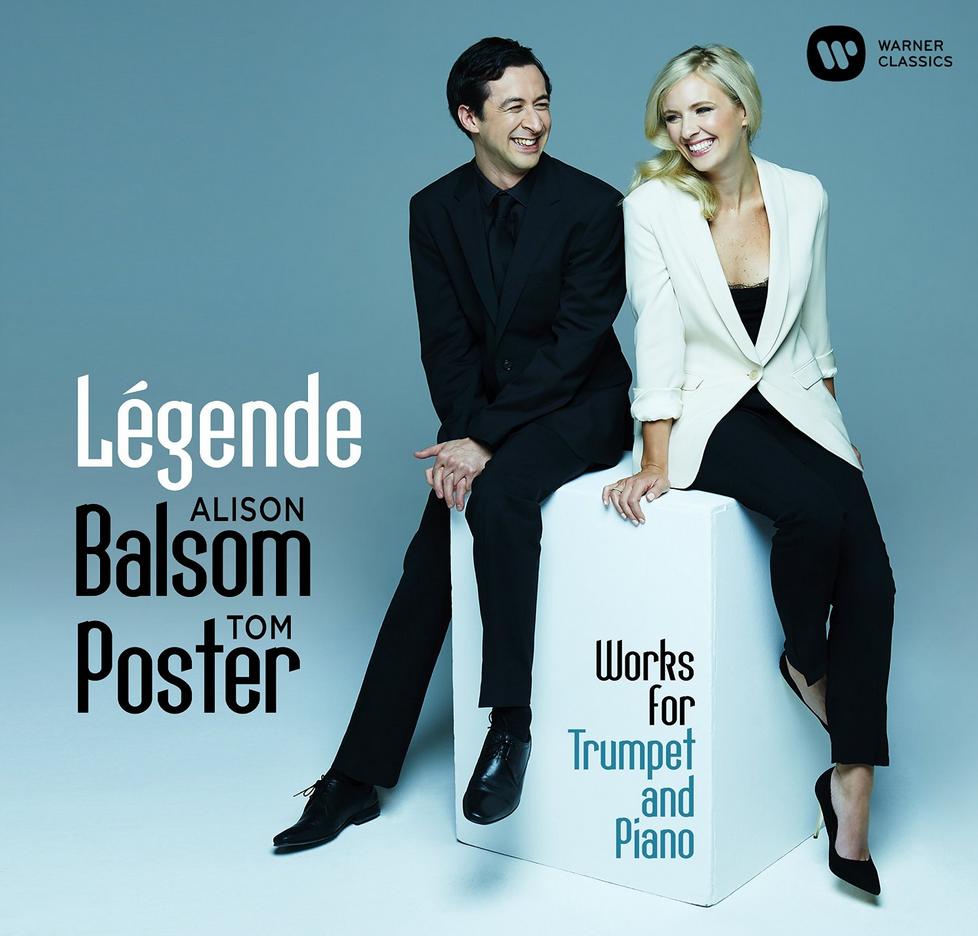 Légende: Works for Trumpet and Piano
Alison Balsom/Tom Poster
Warner Classics 9029598772

Alison Balsom is the poster girl of British classical music, and one of the world's finest trumpeters. She promotes a remarkable range of music, from traditional favourites to cutting edge contemporary, as well as acting as an ambassador for music education for all, which she is not alone in thinking is in serious decline in the UK. This new album contains a remarkable range of music, and, though I think it's a winner, not everything will suit everybody. For great tune enthusiasts, Balsom and her indefatigable pianist, Tom Poster – with whom she has worked for more than a decade now – dish up quality arrangements of two big items from the 'Great American Songbook', Gershwin's Someone to Watch Over Me, and Jerome Kern's The Way You Look Tonight. Thoroughly entertaining, but quite a lot more challenging, is Jean Françaix's perky Sonatine, Georges Enescu's Légende, and Alexander Gaudicke's Concert Etude. Then, as you come up for air mid-listen, there's a charming arrangement of the late, lamented Peter Maxwell Davies's Farewell to Stromness. Not for the faint hearted are two names in my shudder zone: Paul Hindemith and Bohuslav Martinů. But the Martinů is actually quite engaging, and the Hindemith Sonata, though typically overlong, has its moments. So, if you want to push the envelope, and move a bit out of your comfort zone, this is one for you.
Download from iTunes >
Buy from Amazon >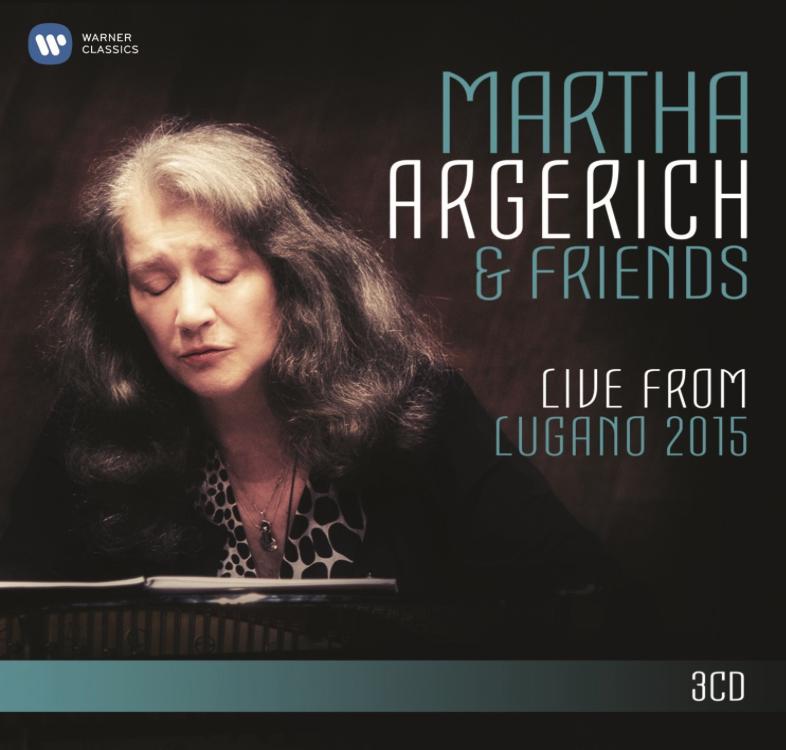 Live from Lugano 2015
Martha Argerich and Friends
Warner 2564628549

As part of my campaign for chamber music, let me strongly recommend the latest in an ongoing series of recordings from Martha Argerich's Festival in Lugano. This one offers 3½ hours of music, of considerable variety, featuring Argerich, and a number of her disciples; musicians of great distinction like the cellist Gautier Capuçon, the pianist Nicholas Angelich, the clarinettist Paul Meyer, the violinist Ilya Gringolts and many others. Argerich, one of the finest pianists of our time, has had her issues as a performing artist. For decades she didn't play solo recitals because of nerves, and has also had recurrent bouts of cancer. These problems have added to her legendary status and meant that when more than a decade ago she set up the Lugano Festival, young artists flocked there for the opportunity to play with her. What you get is an extraordinary mixture of mainstream pieces including Brahms's Clarinet Trio and one of his piano trios, with more off the wall stuff like Ferdinand Ries's Piano Quartet, and Turino's Piano Trio. There's also always something interesting for piano duo, or for two pianos, notably this time, Debussy's En Blanc et Noir, where Argerich is joined by one of her oldest friends, the outstanding London based pianist Stephen Kovacevich. A three album set well worth exploring, particularly since it is extremely well recorded technically.
Download from iTunes >
Buy from Amazon >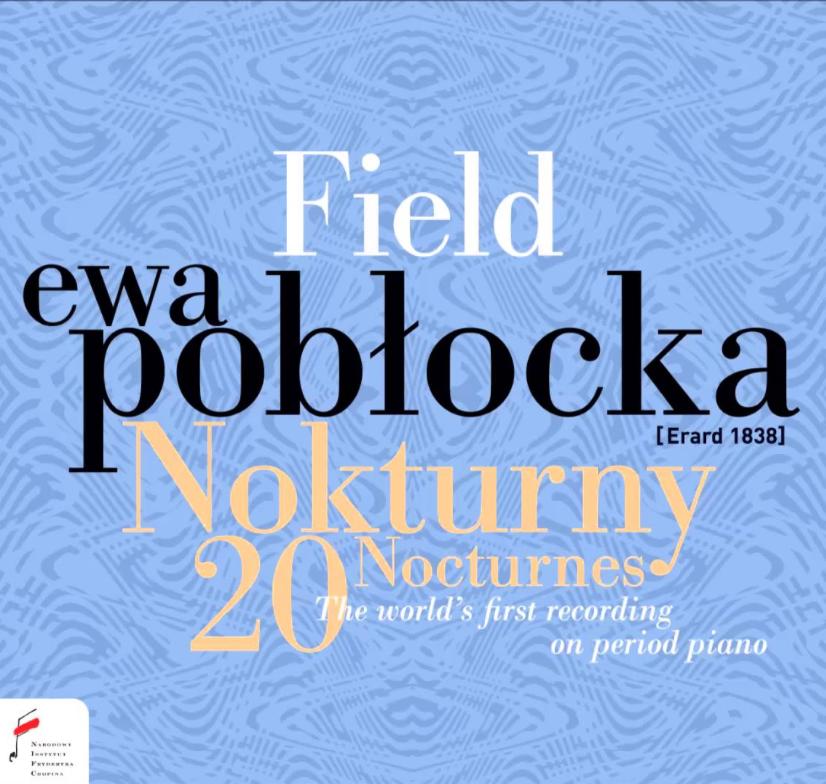 John Field: Nocturnes
Ewa Poblocka
Frederick Chopin Institute NIFCCD102

The Frederick Chopin Institute produces a series of scholarly recordings with excellent notes, about Chopin and his contemporaries and influences. They have now reached the Irish Pianist John Field (1782-1837) who travelled widely in Eastern Europe, and who some think influenced a major part of Chopin's output, the Nocturnes, by inventing the form. Life is never quite as simple as that is it, and the liner notes open up the possibility that Field did not invent the Nocturne, nor did Chopin learn about them from him. Anyway, I prefer the old story, and certainly as you listen to this well filled 77-minute album, with 20 of John Field's Nocturnes included, it's perfectly obvious that stylistically there is much similarity between the output of the great Pole and the talented Irishman. Poblocka is a John Field specialist, who 20 years ago recorded the Nocturnes on a conventional grand piano, and has now recorded them on a Erard 1838 period piano of a type with which Chopin would certainly have been familiar. Field does not have Chopin's distinctive melodic gift, but this is still extremely relaxing, undemanding late night music.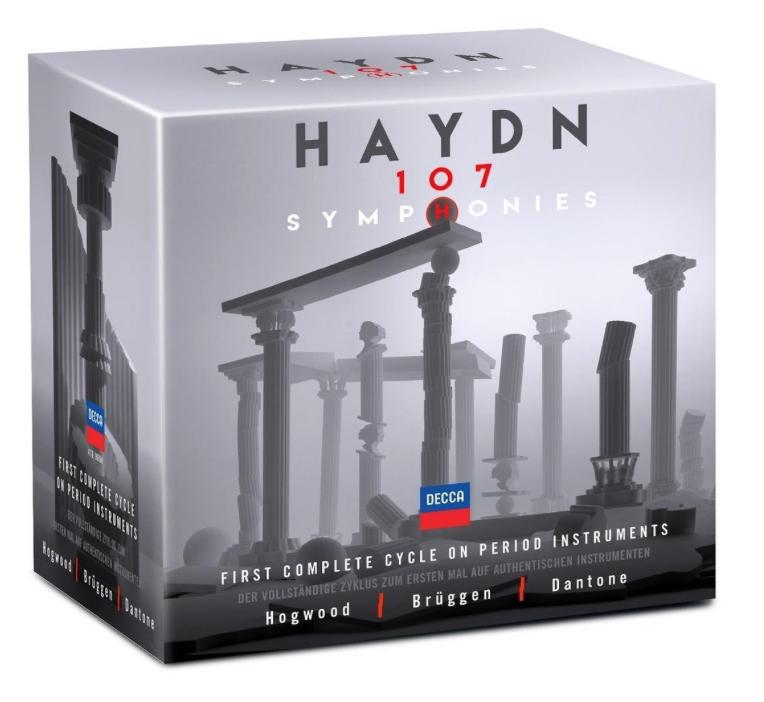 Haydn: 107 Symphonies
Various artists
Decca 4789604

This is the first complete cycle of Haydn symphonies on period instruments, and draws on performances by the Academy of Ancient Music under the late Christopher Hogwood, recorded in the 1990s, others, including all the London symphonies by the London based Orchestra of the Age of Enlightenment under Frans Bruggen, and three symphonies not otherwise available in much more modern recordings by the Accademia Bizantina under Ottavio Dantone. I don't think it matters much frankly whether you get your Haydn played by a traditional symphony orchestra, or on original instruments. I certainly wouldn't want to be without recordings by masters like Thomas Beecham, George Szell, and Colin Davis. Nor will the complete recordings, also on Decca, by Antal Doráti ever be set aside, in my household at least. But it's good to have them on original instruments, especially since the Academy of Ancient Music under Christopher Hogwood is lively, spirited, and he has a real grip of the symphonic argument. All too often with original instruments, the conductors are better musicologists than they are podium giants, but this is not the case here. Interestingly, this includes 107 symphonies; Haydn wrote 104 numbered symphonies, but they have found others. What a busy fellow he was!

Bargain of the Week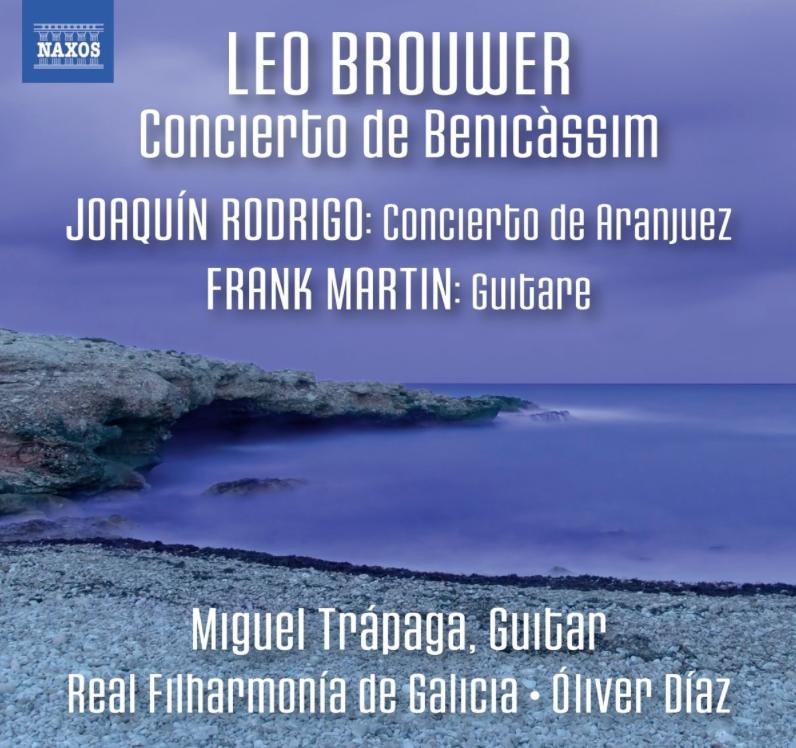 Rodrigo/Brouwer: Guitar Concertos
Miguel Trápaga/Real Filharmonía de Galicia/Óliver Díaz
Naxos 8573542

After a period when it seemed the classical Spanish guitar was out of favour, there has now been a huge bounce back, led by Rodrigo's Concierto de Aranjuez, a concerto which I first loved 50 years ago. This performance by Miguel Trápaga, with a Spanish orchestra and conductor is certainly authentic, if maybe not as sophisticated as some of the better known international guitarists manage. But it's interesting because you also get one of more than a dozen concertos written by Leo Brouwer (b.1939), who has been an indefatigable composer of accessible guitar music, including, amongst other things, transcriptions of Beatles numbers, indeed he has even composed a Beatles Concerto for the guitar. So he will be an interesting discovery for those who don't know him. There is also a piece by Frank Martin, a notable Swiss composer, whose music will not attract you the way the Rodrigo does, but is still well worth hearing.
Download from iTunes >
Buy from Amazon >

David Mellor is Opera and Classical Critic of the Mail on Sunday and presenter of his own show on Classic FM, Sundays 7pm.