Tchaikovsky's Sixth Symphony is one of the greatest pieces ever written: and here's exactly why
28 March 2018, 09:49 | Updated: 30 March 2018, 13:24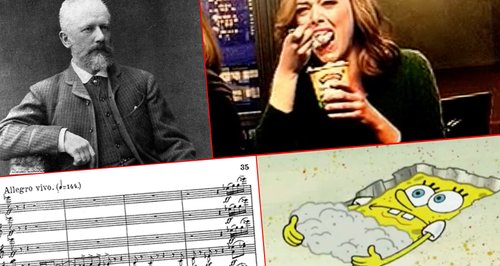 Just nine days after conducting the first performance of the epic symphony Tchaikovsky would be dead. Does the music hide a secret message?
By Victoria Longdon
Tchaikovsky's Symphony No. 6 in B minor has been overshadowed by the composer's untimely death just nine days after its premiere. But legends like these can distract us from the nuances of a piece that Tchaikovsky himself believed to be his greatest work...
The composer struggled with depression throughout his life, but although the Sixth Symphony is a bleak, terrifyingly sad piece of music, Tchaikovsky was unusually chipper while writing it:
"I am very well pleased with its contents but not quite so satisfied with the orchestration (...) I certainly regard it as quite the best – and especially the 'most sincere' – of all my works. I love it as I never loved any one of my musical offspring before!"
He was delighted with the process, saying in letters how happy he was to have created such an earth-shatteringly bleak and devastating fourth movement which would strike existential terror into the souls of his audience...
I mean... Hooray!
It's nicknamed the 'Pathétique', but that doesn't mean 'pathetic', as you might assume, but moving or touching (from the original Russian Патетическая (Pateticheskaya). True, this work is about death, but it's also about the stubborn impulse of life and its struggle to rise away from inevitable nothingness.
Which is sort of a positive message…maybe?
Read more: find out more about the story behind Tchaikovsky's Sixth Symphony >
If you keep one theme in mind when listening to the music of Tchaikovsky, it's fate. This wasn't just down to Tchaikovsky's melancholic nature; the theme of inescapable fate was an important strand in Russian culture at the time. Think Chekhov.
So what does it sound like?
We begin with a classic Tchaikovsky start; the music emerges out of the murky depths of the lower strings and solo bassoon and then blossoms into beautiful rising motifs that struggle upwards with 'life and a thirst for activity'.
Tchaikovsky's music had a great impact on Stravinsky and there are many similarities. Take for example this shocking moment at the beginning of the development in the first movement (10:57 above):
BOO!
It's a shocker, and you can definitely see the impact it had on music such as Stravinsky's The Firebird...
Remember this?
Read more: these are factually the greatest symphonies ever written >
The third movement is a frenetic 'limping' waltz in 5/4, reminiscent of Tchaikovsky's ballet works. This vibrant activity doesn't really go anywhere, musically speaking, but it ends with such unearned exuberance that audiences across the centuries have started clapping, fooled into thinking the symphony has reached a triumphant conclusion.
They couldn't be more wrong...
In the wake of the sparkling conclusion of the third movement, Tchaikovsky hits you with the real ending – the heartbreaking final movement.
Traditionally the final movements of symphonies are triumphant. They might end with a display of elaborate wit, Haydn-style, or with a climactic catharsis of emotion like Beethoven. Tchaikovsky subverts both these traditions with a fourth movement that dies away to nothing. By replacing the usual triumph with death and nothingness, he drives his ecstatic audience into a pit of Romantic despair.
Nine days after conducting the premiere of the Symphony No. 6, Tchaikovsky was dead, struck down by cholera that he caught from drinking contaminated water.
Some historians – and musicians – believe he deliberately contracted cholera. So ever since there's been debate about whether the Sixth Symphony was designed by Tchaikovsky as an elaborate suicide note.
But putting all the myths and rumours to one side, this is a work that one of the greatest composers of all time believed to be one of his best works. Let's listen to and enjoy the Sixth Symphony on those terms.
Find out more about the myths and stories surrounding Tchaikovsky's death in the fourth episode of our new true crime podcast, Case Notes, out on 19 April