Singer casually gives astonishing karaoke performance of Mozart's fiendish 'Queen of the Night' aria
23 June 2023, 20:42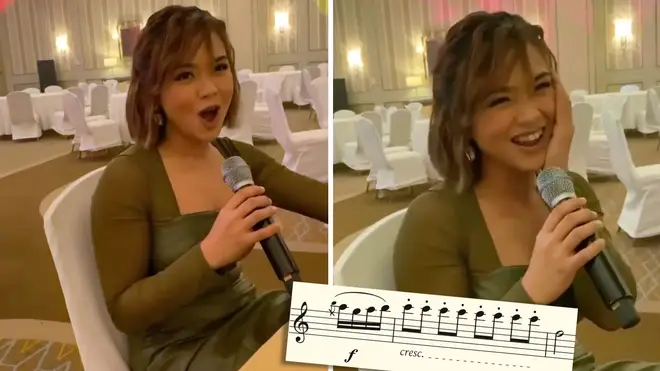 Coloratura karaoke, as a soprano gives an unforgettable late-night Mozart performance...
Late into the evening, as the caterers pack up a party – you might not think that would be the location for Mozart's most virtuosic soprano aria. But that is exactly what happens when Filipino soprano Lara Maigue is on the invite list.
Casually sitting at a table in her party gown, Maigue sings karaoke-style along to an orchestral backing track.
"When the party's over and they hand you a mic during the drinking session. I swear this was powered by wine," she said in her Instagram post.
The Queen of the Night's 'Der Hölle Rache', from Mozart's 1791 opera The Magic Flute, is regarded as one of the most challenging arias from soprano. The aria rages with rapid long virtuosic runs, and most famously very high, dramatic notes. And powered by that wine, this singer sees off Mozart's high Fs and Cs with ease. Watch the amazing performance below.
The footage has set Instagram ablaze, with almost 20 million views.
Her performance left viewers astonished by the casual cascade of soprano notes. "Is it even possible to do that sitting down?" asked one user.
Others, in quite understandable incredulity, questioned the authenticity of the audio. But the Singapore Symphony swiftly stepped in. "We can vouch that Lara Maigue's voice is out of this world," they clarified.
Lara Maigue is a graduate of the University of the Philippines College of Music, with a major in voice. She has performed with the Philippine Philharmonic Orchestra and the Manila Symphony Orchestra. Alongside opera, she is also an actor and sings jazz.
And she provides a very good lesson about why you should stay late at a party. If there are musicians there, it's often when the best music happens.