Seiji Ozawa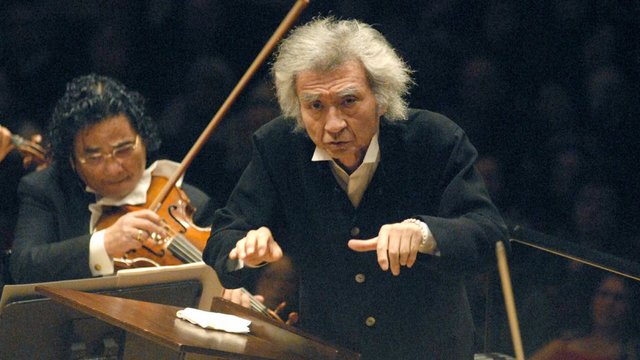 Seiji Ozawa's early piano playing aspirations were brought to a dramatic halt in 1950 when he sprained his finger during a rugby game at school. With his piano playing curtailed, he then decided to pursue a career in conducting, after a teacher took him to an inspiring performance of Beethoven's Symphony Number Five.

His took his first career steps when, in 1960, he was invited by the Boston Symphony Orchestra's music director, Charles Münch, to attend the Berkshire Music Centre. The invitation was extended after Ozawa won the first prize at the International Competition of Orchestra Conductors in Besançon, France. At Tanglewood he won the Koussevitzky Prize for Outstanding Student Conductor.

After further studies in Berlin, he was taken under the wing of Leonard Bernstein whom appointed him Assistant Conductor of the New York Philharmonic.

He was music director of the Toronto Symphony Orchestra from 1965 to 1969, and of the San Francisco Symphony Orchestra from 1969 to 1976. The latter orchestra commercially recorded music based on Shakespeare's Romeo and Juliet.

He became the Boston Symphony Orchestra's music director in 1973 – a post he held for the next 29 years.

Along with fellow conductor Kazuyoshi Akiyama he founded the Saito Kinen Orchestra in 1992. The orchestra merged all-Japanese talent with international artists.

Ozawa became the principal conductor at the Vienna State Opera in 2002. He stepped down in 2010, while health issues including esophageal cancer, a lumber hernia and pneumonia have conspired to keep him from the public eye.

Seiji Ozawa has been awarded honorary doctorate degree from Harvard University, the New England Conservatory, the University of Massachusetts, and Wheaton College.
View more
Most shared Seiji Ozawa features