Alicia Keys plays Beethoven's 'Moonlight' Sonata in heartfelt tribute to Kobe Bryant
25 February 2020, 12:01 | Updated: 25 February 2020, 12:13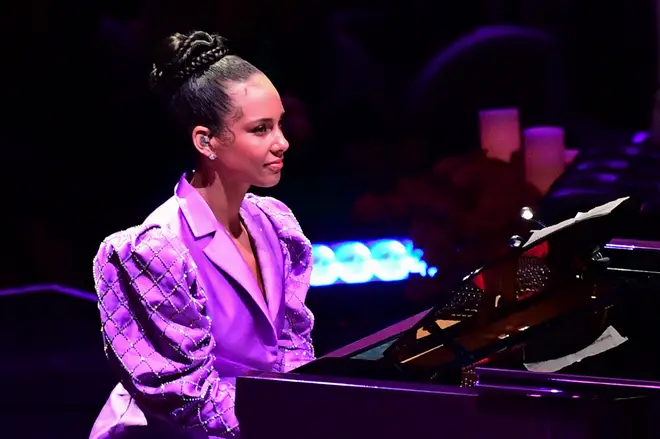 Keys paid a moving tribute to basketball legend Kobe Bryant with Beethoven's 'Moonlight' Sonata – which Bryant had learned to play on piano for his wife, Vanessa.
Last night, family and friends of Kobe Bryant gathered in an LA memorial service to remember the late basketball great and his daughter, Gianna, who tragically died in a helicopter crash in January.
Among other musical tributes, Alicia Keys' emotional rendering of Beethoven's Piano Sonata No. 14 in C sharp minor, arranged for piano and string quartet, was particularly poignant.
Before her performance, Lakers general manager and Gianna's godfather Rob Pelinka recalled how Bryant had learned to play the 'Moonlight' Sonata on piano for his wife, Vanessa, after hearing how much she loved it.
"Vanessa brought out Kobe's romantic side like nobody else in the world could," Pelinka told the audience. "While he was away, he wanted to live in his love for Vanessa so at night under the moonlit sky, he vowed to teach himself by ear to play the first movement of Beethoven's 'Moonlight' Sonata.
"When he told me this, I thought, 'There's no way!'... That next morning, Kobe called and played me the first few measures. The next morning, more. By the end of the week, he had the entire piece mastered, and he played it for me over the phone without a mistake."
Read more: Basketball star Kobe Bryant declares love for Beethoven >
Keys first paid tribute to Kobe Bryant in her opening Grammys monologue on 26 January – the same day Bryant, 41, and his 13-year-old daughter Gianna died.
"Here we are together on music's biggest night celebrating the artists that do it best, but to be honest with you, we're all feeling crazy sadness right now because earlier today in Los Angeles, America and the whole wide world lost a hero," she said during her opening monologue. "We're literally standing here heartbroken in the house that Kobe Bryant built."
Read more: Kobe Bryant remembered in poignant solo cello tribute >
Later that night, in her piano medley, the singer also shouted out Beethoven in the year of the great composer's 250th anniversary: "Music changes the world, just like Beethoven said."
As the 'Moonlight' Sonata played out at A Celebration of Life for Kobe and Gianna Bryant, pictures of Kobe and Vanessa appeared on the screen above the stage at the Staples Center, in Downtown Los Angeles.
Read more: Kobe Bryant wins Oscar for basketball short scored by John Williams >
Keys was joined by a number of other artists paying tribute to Bryant, including Beyoncé (who sang 'Halo') and Christina Aguilera, who delivered a powerful 'Ave Maria' in honour of the late basketball great.
Watch Alicia Keys' full performance below.
Alicia Keys performing Beethoven's "Moonlight Sonata" in honor of Kobe Bryant