Solo cellist plays Bach Prelude as rain lashes on historic temple steps
7 June 2023, 17:12 | Updated: 7 June 2023, 17:22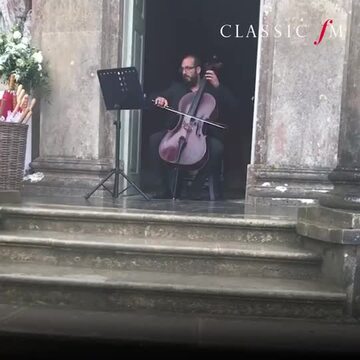 Solo cellist plays a Bach prelude in the rain
Bach in the rain, and a musical wedding day moment unlikely to be forgotten…
A few years ago, just moments before a wedding was about to take place in Wiltshire, southwest England, heavy rain hit.
Across the magnificent 10,720,000-square metre estate of Stourhead, rain lashed down on the lakes, grounds and stone paving.
To the newlyweds' disappointment, all musical performances had to be cancelled. It meant they wouldn't hear the piece of music so close to both of their hearts: the eternal Prelude from Bach's Cello Suite No.1.
And so, one of the members of the string quartet booked to play that day decided to do something special for the couple.
Cellist Nick Squires sheltered in the nearest doorway he could find, which happened to be a temple contained within the estate and dedicated to the musical god, Apollo, no less. Playing the beloved Prelude in the pouring rain, he gave the couple a poignant gift of music.
Read more: Yo-Yo Ma playing Bach on a beach is proof that music has healing powers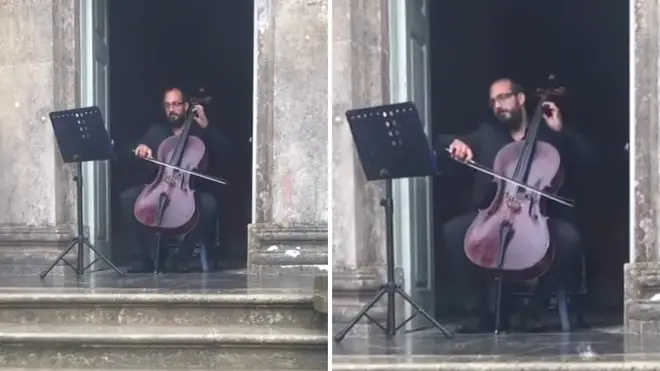 Squires, who had been booked to play in the Alani String Quartet, spoke to ABC Classic following his rain-soaked performance. "The acoustics were magic and the rain was just incredible," he said.
"It was a massive risk as my cello is 180 years old, and my fingers were sliding around as it was so damp but I think it came out pretty well!"
After the wedding, which took place in the autumn of 2018, footage of his playing went viral. Shortly afterwards, the clip garnered 7.3 million views after being posted on Classic FM's Facebook page.
In 2020 Nick followed up on his viral success with an album, Cello in the Rain, featuring the Bach Prelude as the last track. You can listen to it on Spotify here.