15 pop songs you didn't know were inspired by J.S. Bach
12 May 2021, 18:43 | Updated: 12 May 2021, 19:15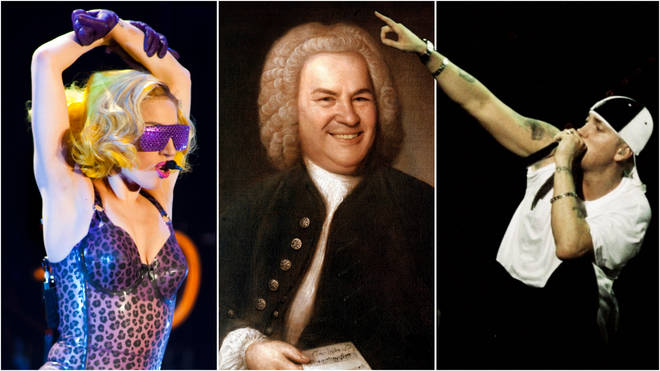 From The Beatles to Eminem and Lady Gaga, here are all the times Bach's music unexpectedly appeared in chart-topping pop, rock and rap.
Here's proof that the great Baroque composer Johann Sebastian Bach is alive and well, and living through some of the most popular music of the last 60 years.
As a composer Bach was a master of repurposing his music, and (shall we say...) sampling his favourite musical material in many different works and musical contexts.
So we're sure he would have loved to know that 300 years on, his notes and ideas are still finding their way into the world's most popular music.
(And a little warning that it's not all church cantatas here, and some tracks may have explicit themes and lyrics...)
Read more: 17 pop songs directly inspired by classical music
MC Fioti: 'Bum Bum Tam Tam'

Brazilian rapper MC Fioti also loves his Bach solo Partitas. His hit Bum Bum Tam Tam, and all its 1.6 billion YouTube views, samples Bach's Partita in A minor for solo flute, BWV1013. That's a lot of people enjoying the magic of J.S. Bach's solo flute, and not a bum note in sight.

Eminem: 'Brainless'

Johann Sebastian joins the American rapper in this 2013 outing. From 43 seconds in, you can catch Slim Shady rapping alongside the fugue subject from Bach's famous Toccata and Fugue in D minor.

Eddie Van Halen: 'Eruption'

There's more Toccata and Fugue-ing from the late heavy metal guitar maestro Eddie Van Halen, in this instrumental epic.

Interestingly, the pioneers of heavy metal guitar studied Baroque, Classical and Romantic violin and virtuoso repertoire, and it went on to influence much of their style and technique. So never be surprised when you hear a Bach riff erupting from an epic Marshall stack like it does here.

Read more: 8 pieces of classical music for curious heavy metal fans

Jem: 'They'

Here's a vocalisation of the Prelude in F minor from Book Two of Bach's Well-Tempered Clavier – loud and clear, perfectly placed, and absolutely beautiful.

Paul Simon: 'Bridge over Troubled Water'

Bach's deeply beautiful four-part chorale 'O sacred head now wounded' lies behind one of pop's abiding hits. Hear Paul Simon, of Simon and Garfunkel, in 1970 as he sits on a chat show and talks through the compositional process of Bridge over Troubled Water. Catch the Bachian fascination from six minutes in.

Paul Simon: 'American Tune'

More Bach from Paul Simon in 1973 when he took a distinctly Deutsche ditty for his song American Tune. Simon's melody and harmony is once again based on 'O sacred head now wounded', which is used with great impact throughout his 1727 St Matthew Passion.

The Beatles: 'Blackbird'

One of Johann Sebastian Bach's most famous works for lute is the musical inspiration behind this classic. Years later Paul McCartney described how Bach's Bourrée in E minor lent its shape and harmony to the song's iconic opening.

You can find a very interesting analysis here, and enjoy the absolute gem of a song below.

The Beatles: 'All You Need Is Love'

Links between Bach and the music of The Beatles run deep. As boys, Paul McCartney and John Lennon sang in Liverpool church choirs and would have encountered Bach's church and organ music. The band's producer George Martin also had a deep love and knowledge of Bach and Baroque forms.

So it's no surprise when Bach's music seems to peer around every corner in their musical creations.

Like this moment, when one of his most joyous keyboard works, his Invention No. 8 in F, that rings out during the mammoth contrapuntal pastiche in the final section of 'All You Need Is Love'.

The Beatles: 'Penny Lane'

One more mention for the Bach-loving Liverpudlian quartet: among the brilliant orchestration of 'Penny Lane', you can hear a virtuosic piccolo trumpet, playing lines from Bach's Brandenburg Concerto No. 2.

Read more: You need to hear Gershwin's Rhapsody in Blue on piccolo trumpet

Sweetbox: 'Everything's Gonna Be Alright'

In 1998, Bach topped the charts, riding on the coat-tails of pop/hip-hop trio Sweetbox, who quite comprehensively sampled the German composer's famous Air on the G String from his Orchestral Suite No. 3.

The Beach Boys: Lady Linda

These Californian rock-n-rollers gave us one of the greatest key changes in pop music. And we also have them to thanks for this hazy sun-and-sea-filled reworking of Bach's 'Jesu, Joy of Man's Desiring', from his cantata Herz und Mund und Tat und Leben, BWV147.

Led Zeppelin: Heartbreaker

Jimmy Page quotes Bach's Lute Bourrée in E minor during a live performance of his band's ear-meltingly good 'Heartbreaker'. That's a guitar solo climax worth waiting for.

Lady Gaga: 'Bad Romance'

What's that eerie harpsichord music at the beginning of Lady Gaga's 2009 'Bad Romance'? It's only the subject from the Fugue in B minor from Book One of the Well-Tempered Clavier.

Amy Grant: 'Sing Your Praise To The Lord'

1980s Christian rock icon Amy Grant lifts her voice in praise of Baroque music's almighty. This song from her album Age to Age makes extensive use of Bach's Fugue in C minor, from Book One of the Well-Tempered Klavier. All praise to Bach.

Procol Harum: 'A Whiter Shade of Pale'

Maybe one of the most famous pop reworkings of Bach's music.

The arching melody and moving bass of 'A Whiter Shade of Pale' has an unmistakable resemblance to Bach's Air on the G String. Interestingly, the music is perhaps more closely linked to Johann Sebastian's exquisite instrumental Arioso from Cantata 156. But hey, it's all Bach, right?