Sheku Kanneh-Mason: 'Every child would benefit from music lessons'
19 November 2018, 12:38 | Updated: 29 November 2018, 16:10
Sheku Kanneh-Mason might be the cellist of the moment, but he still has time to visit the youngest musicians in the business. The 19-year-old musician, who recently played to two billion people at the Royal wedding of the Duke and Duchess of Sussex, recently paid a visit to Prior Weston Primary School to give a performance during their morning assembly, and to take part in workshops with the young cellists.
Why is it important that children have access to music lessons?
"Music allows you to express yourself in many ways, and not having the opportunity to do that is a real shame. I've always had music as a massive part of my life and have benefited in so many ways from that, and I think every child would benefit from music lessons."
Why is it important that charities like London Music Masters exist?
"A child having a music lesson should be the normal thing. It's a real shame to see children not have the opportunity to have music lessons.
"It's great coming to schools like this and seeing children really enjoying playing their instrument and being really enthusiastic. They asked lots of interesting questions which means they're fascinated by music and what they're doing. They have an amazing opportunity, but it should be an opportunity that every child has."
Sheku Kanneh-Mason's album, parents and tour dates revealed >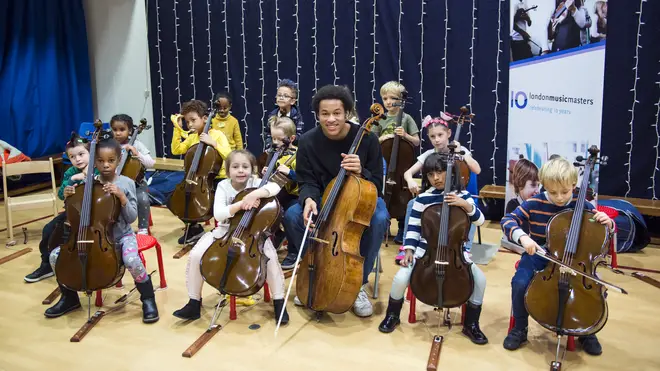 What do you aim to do in your role as Junior Ambassador?
"I aim to inspire [the children], and for them to see me as something they can aim for. When I was growing up, there were a lot of musicians who were much older than me who I admired.
"But also I had musicians much closer to home who were closer to my age who really inspired me. I think it can really inspire a child to see someone not too far ahead in age that they can relate to."
Is music becoming an elitist subject?
"Yes, and I think it's awful. Music has an amazing way of expressing lots of things, and every person reacts to it differently. To not have the opportunity to properly experience that is a terrible shame."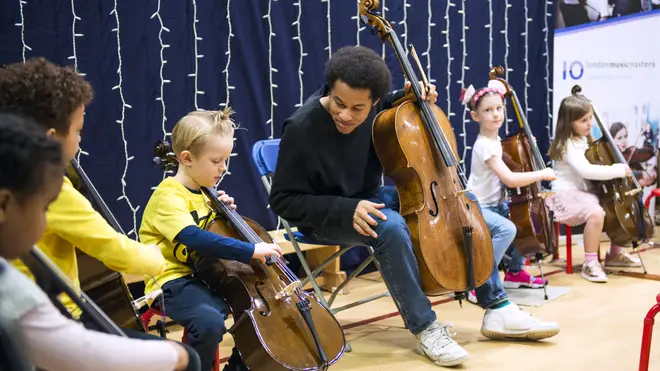 Who would you like to collaborate with?
"I'm a massive fan of Simon Rattle and what he's doing with the LSO, and what he's done with the CBSO and Berlin Philharmonic."
On your album, you recorded a cello version of 'No Woman No Cry'. Are there any other non-classical artists whose music you'd like to cover?
"What I did with Bob Marley – it's music I've grown up listening to and enjoy listening to – so I just enjoy having fun and playing that kind of music. If I hear something I really like and I want to take it to the cello, I will."
We went to meet Sheku at Prior Weston Primary School, a London primary and partner school of the music education charity London Music Masters – of which Sheku is a Junior Ambassador.