Violinist Nicola Benedetti slams "gross undervaluation of music teachers"
9 March 2020, 14:54 | Updated: 22 October 2020, 08:56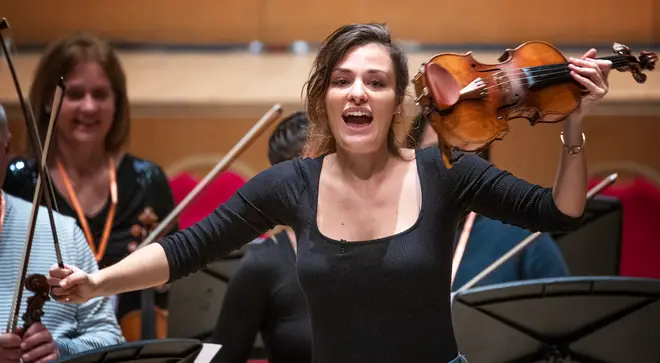 The Grammy-winning virtuoso highlighted the country's treatment of music teachers and shared a touching tribute to her first violin tutor.
Violinist Nicola Benedetti has slammed the "gross undervaluation of teachers" in the UK.
The 32-year-old virtuoso made the remark during a weekend-long workshop in Dundee – the third of three Benedetti Sessions – where she was joined by more than 140 budding musicians.
Benedetti told The Courier: "To lose the excellence, or the real specialists in any field of a community has an enormous impact and it's never, ever a good direction", and that the country is seeing a "gross undervaluation of teachers and of the teaching profession".
She continued: "We do not seem to grasp that if we gave them a lot more support, information, infrastructure we would all be better off.
"I don't know what goes wrong in our society that we demote that profession as much as we do. Teachers constantly feel like they're not supported enough."
Read more: Cellist Sheku Kanneh-Mason wins Best Classical Artist at The Global Awards 2020 >
With many councils across the country reducing the number of music tutors due to tight budgets, Benedetti is concerned about the impact this will have on the lives of aspiring musicians.
David Munn, a cellist and tutor who led part of the weekend's workshops, supports her view and believes that musicians are an "easy target" for councils when making cuts.
Paying tribute to her first violin tutor, Brenda Smith, Benedetti explained: "She was somebody who understood how to impart that basic love of music.
"She was demanding and she was a strict teacher to a certain degree, but she had so much positivity and so much enthusiasm that it was such a powerful first experience."
With fewer music tutors in the UK, it makes two-day workshops like the Benedetti Sessions all the more worthwhile.
Held at Dundee's Caird Hall, her latest workshops were attended by young musicians from across Scotland, their music teachers and musicians from the Royal Conservatoire of Scotland.
She told attendees: "We have every single level of musicianship in the one room at the one time. You have some of the greatest players in the county sitting alongside beginners who've only been playing for a couple of months."
During a previous workshop in Glasgow, the Ayrshire-born violinist added: "The weekend itself demonstrates the power of a single event. If you put enough effort into putting the right team together, and then unleash their creativity, individually and collectively, you will grow the energy and impact exponentially.
"We have literally one objective – which is to see a national music education picture that will be greatly improved on what we currently have and that is our single only objective."
Visit www.benedettifoundation.org to find out more.
Voting is currently open for the Classic FM Hall of Fame 2020 – click here to tell us what your three all-time favourite classical pieces are, and you could win £1,000!