Nicola Benedetti's The Four Seasons masterclass
16 December 2015, 15:36 | Updated: 16 December 2015, 15:38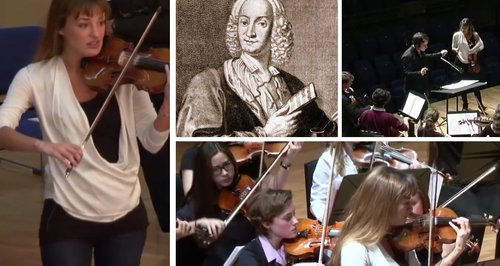 The brilliant violinist led an orchestra of young string players through 'Spring' from Vivaldi's The Four Seasons – and we filmed the whole thing.
Vivaldi's The Four Seasons: a masterclass
Nicola Benedetti is one of today's finest violinists. And we were lucky enough to catch a masterclass she recently gave all about 'Spring' from Vivaldi's The Four Seasons.
Ben Gernon conducted young string musicians from the area around Saffron Hall – where the masterclass took place.
First things first some tips for playing Baroque music:
The importance of contrast in Baroque music
Creating dynamic contrast is vital in Baroque music because, as Nicola explains in this clip, musicians have a smaller palette of colours to work with:
How to create the perfect birdsong effect
One of the most famous sections of 'Spring' is a passage in which the violins imitate birdsong. Here, Nicola shares her tips for recreating the organised chaos of the dawn chorus:
And the storm…
In contrast, the storm is a sudden dramatic interruption to the cheerful concerto – here are Ben and Nicola's tips for creating a terrifying storm:
How do you create the image of a gentle stream in the listeners' mind?
Nicola has a few suggestions – including working on the left hand:
The goatherd's dog
Did you know The Four Seasons includes a part for a goatherd's dog? Well, a goatherd's dog as interpreted by a viola. Here are Nicola and Ben's tips for, well, sounding like a dog:
How to create a drone effect in the lower strings
No country dance would be complete without a drone. Obviously. So Vivaldi includes one in his evocation of the joys of the countryside in Spring. But how to recreate the sound of a hurdy-gurdy or bagpipes when all you've got is a load of cellos and double basses?


Nicola Benedetti was one of the performers in The Full Works Concert on Monday, earlier this week. You can listen again to the whole thing here.