Nicola Benedetti tells us why Shostakovich's Violin Concerto is utterly devastating
19 May 2017, 20:36 | Updated: 22 August 2017, 12:49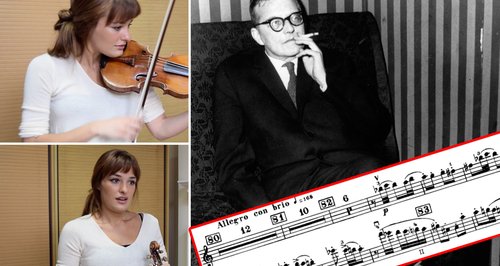 Violinist Nicola Benedetti has just recorded Shostakovich's mind-blowing First Violin Concerto (the album is available to buy now on Decca). We asked her to talk us through a work that she says is "totally overwhelming the first time you encounter it"
The concerto opens with an unsettling Nocturne
In this opening movement, Nicola says, "every time you feel you're reaching some kind of conclusion you're taken away from it, it's very unsettling."
And here's a clip from the first movement Nocturne
Next, Shostakovich turns to something altogether more wild
The concerto's second movement is a dizzying Scherzo:
Here's Nicola playing part of this hair-raising movement:
At the heart of the piece is a movement of depth and darkness
This third movement, in the form of a passacaglia, is the heart of the piece and contains what Nicola thinks is "the most shocking moment of the entire concerto".
And here's part of that fiendish cadenza she mentions:
Finally, we get Shostakovich's dark-as-it-comes comedy
The final movement of the concerto is a Burlesque – a genre in the arts which is part satire, part caricature.
Here's a clip from the recording session of this amazing movement:
Has that whetted your appetite? You can download the whole album now on iTunes or get a copy on Amazon.
You can also watch Nicola playing the complete concerto with the Gothenburg Symphony and Thomas Søndergård here:
Watch more incredible live performances with gsoplay.com
Picture of Dmitri Shostakovich: Getty