Lang Lang and Nicole Scherzinger perform 'Reflection' from Disney's Mulan at Windsor Castle
7 May 2023, 21:33 | Updated: 8 May 2023, 14:13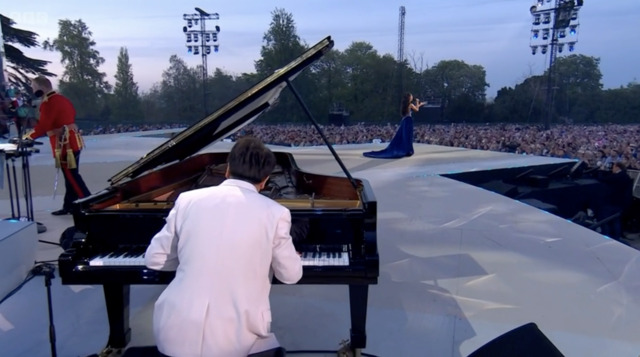 Lang Lang plays 'Mulan' song as a magical duet with Nicole Scherzinger at Windsor Castle
Star pianist Lang Lang brought a sprinkle of Disney magic to the King's Coronation Concert at Windsor Castle with his 'Mulan' performance.
Superstar Chinese-born pianist Lang Lang appeared at the King's Coronation Concert alongside singer Nicole Scherzinger to perform a timeless Disney classic.
Set against the fairytale-like backdrop of a real-life castle, the internationally acclaimed pianist appeared on stage on the East Lawn of Windsor Castle in a white suit playing 'Reflection' from Mulan on a Steinway & Sons grand piano.
Opening with a solo instrumental interlude utilising the entire range of the piano, he then announced the arrival of his duet partner for the night, Scherzinger.
Played in by a flute solo, Scherzinger was accompanied by a 70-piece orchestra and house band comprising the Massed Bands of the Household Division and the Countess of Wessex's String Orchestra as she belted the 1996 Disney classic.
Listen to a clip from their performance above.
Read more: Coronation Concert: who is performing, what time it starts and how to watch
Lang Lang, Guo Gan - Reflection (From "Mulan") [Visualizer]
Lang Lang is no stranger to the world of Disney, having released his own Disney-inspired album last year.
After he was asked to perform at the coronation, Lang Lang wrote on his social media that is was "an honour" to be performing at the royal event taking place at Windsor Castle the day after King Charles III's coronation.
Following his performance with Scherzinger, Lucy Illingworth, winner of The Piano (a talent television show hosted by Lang Lang), performed Bach's Prelude No. 1 in C major on the same stage.
Read more: Lang Lang performs nostalgic piano rendition of Mary Poppins song against Disney Castle backdrop
A magical performance to begin a star-studded evening of musical excellence celebrating the crowning of King Charles III.
Join us on Monday 8 May, 9am-9pm for Classic FM's Great British Classics – the Top 100 best pieces of British classical music, voted for by you.