Berlin Phil announces first ever female concertmaster in 141-year history, Vineta Sareika-Völkner
17 February 2023, 15:57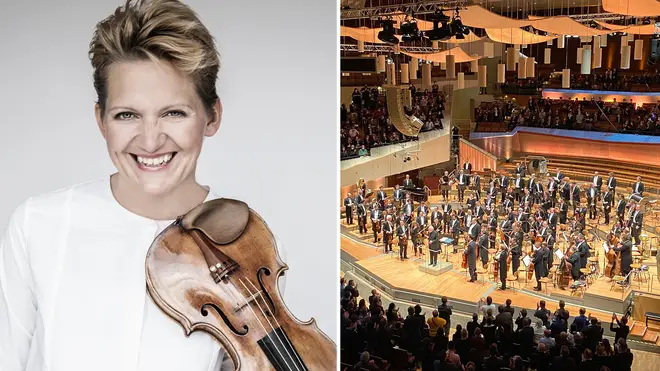 The legendary German orchestra, often considered the best in the world, has announced its newest concertmaster, who for the first time is a woman.
Latvian violinist, Vineta Sareika-Völkner, has today been announced as the new concertmaster of the acclaimed Berlin Philharmonic.
Sareika-Völkner is the first woman to have ever held the position of concertmaster in the prestigious orchestra, and she takes on the role after joining the orchestra just 10 months ago in April 2022.
In a statement released by the orchestra this afternoon, the Berlin Phil writes that Sareika-Völkner "comes from an art-loving family" and began playing the violin at the age of just five years old.
The violinist has an impressive background, having completed her training at the Paris Conservatoire National with Gérard Poulet, and at the Belgian Queen Elisabeth Music Chapel with Augustin Dumay.
Since graduating, she has performed as a soloist with the Philharmonia Orchestra, Belgian National Orchestra, Royal Flemish Philharmonic, Lisbon Philharmonic, Latvian National Orchestra and London Chamber Orchestra.
From 2012 to 2021, Sareika-Völkner was the first violinist in the award winning Artemis Quartet. She plays on a 1683 Antonio Stradivari violin, on loan to the musician from the Ruggieri Foundation.
Read more: What's so good about Stradivarius violins?
🎻 Vineta Sareika-Völkner has won the audition for the position of 1st concertmaster with the Berliner Philharmoniker. The musician is the first woman to hold this position in the orchestra's history. Our warmest congratulations!https://t.co/dZTjCZCruo pic.twitter.com/NxohLRYF0W

— Berliner Philharmoniker (@BerlinPhil) February 17, 2023
Despite forming in 1882, the Berlin Phil only began accepting women musicians a century later, with the hire of violinist, Madeleine Carruzzo in 1982.
Now 41 years later, Sareika-Völkner takes on the concertmaster position, just months after the Golden Globe winner for Best Film Tár – a film which depicted a woman in the first chair position of the orchestra – was released.
This is not Sareika-Völkner first concertmaster position; from 2011 to 2013 she was the principal concertmaster of the industry leading Royal Flemish Philharmonic under the direction of Edo de Waart and Philippe Herreweghe. Over the past few years she has also taken up a number of guest concertmaster roles at the Brussels Royal Opera Orchestra and the Brussels Philharmonic.
Sareika-Völkner's appointment is a historic moment for the great German orchestra, and we wish them all a harmonious new chapter of incredible music making.