Behind the scenes at a Winchester Christmas
16 December 2016, 10:32 | Updated: 21 December 2016, 15:16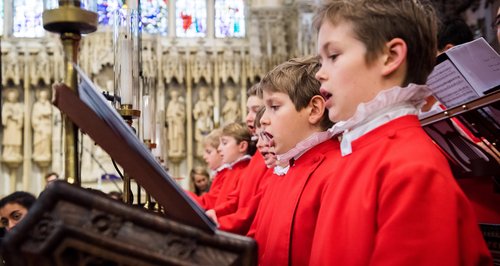 This year we returned to Winchester College to join the Quiristers of the school for their annual carol service. You can listen again to the broadcast online until Christmas Eve and watch videos of the service below.
Picture: Hester Marriott
Lucy Coward presented A Winchester Christmas this weekend – and here's a sneak peak behind the scenes.
Catch up: Listen again to A Winchester Christmas (until 24th December) >
When Winchester College was founded in 1382 the founder, William of Wykeham, made provision for 16 boys – the Quiristers – to sing in the Chapel for services.
For more than 600 years, the college has maintained the tradition. And for the second time, we joined the Quiristers for their annual Christmas carol service. Here are some of the highlights.
In the Bleak Midwinter – Harold Darke
A frankly stunning performance of Darke's version of this Christmas carol
The Glory of the Lord – Handel
The Quiristers opened their service with this Baroque gem.
And the service closed with…
This classic and arguably the greatest descant ever written