A trombonist fainted during the King's birthday parade rehearsal, got up – and tried to play on
12 June 2023, 15:59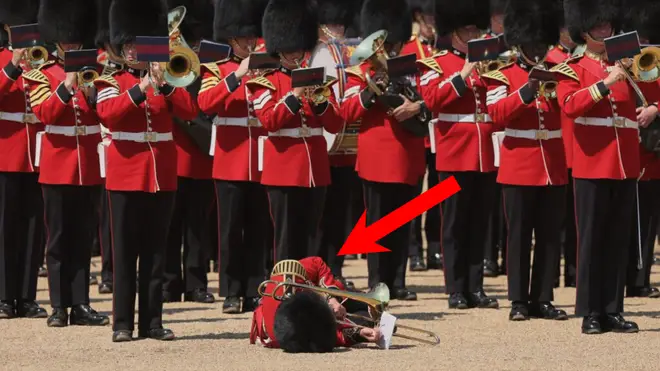 Temperatures reached a sweltering 30 degrees celsius, causing three guards involved in the parade rehearsals to collapse.
A trombonist soldier, who was performing with a brass ensemble as part of the Massed Bands of the Household Division, collapsed during a rehearsal for the King's Birthday Parade.
Also known as the Trooping of the Colour, the parade is an annual event which takes place on the monarch's 'official birthday'. The event is a highlight of the ceremonial calendar in the UK and involves over 1,400 soldiers, 200 horses, as well as the Massed Bands. This year it is due to take place on Saturday 17 June.
The trombone player in question fainted during the 30-degree (celsius) heatwave in London last Saturday. He and the band were rehearsing their role in the 'Colonel's review', a part of the ceremony which takes place before the parade.
Adorned in a bearskin helmet – a term coined for the furry head-dresses which weigh around one and a half pounds – the brass player was one of three soldiers taking part in the parade rehearsals who fainted during the day.
Remarkably, the musician attempted to continue playing after he collapsed and subsequently came to. But he was then helped off the parade ground by a team of army medics, who were obviously concerned for his well-being and safety. Watch a video of the startling moment below.
Read more: How do extreme temperatures affect our musical instruments?
Due to tradition and training, royal guards are famous for being able to withstand mild distractions while doing their job. A famous example is the Buckingham Palace guards who remain straight-faced while tourists from around the world attempt to distract them, due to their famed ability to remain unperturbed.
Similarly to the palace guards, despite watching their fellow band member fall to the floor with trombone in hand, the rest of the ensemble continued playing while medics ran towards the musician.
Elsewhere in the parade, at least two other soldiers fainted, including one who was carried off in a stretcher behind the trombonist (watch above).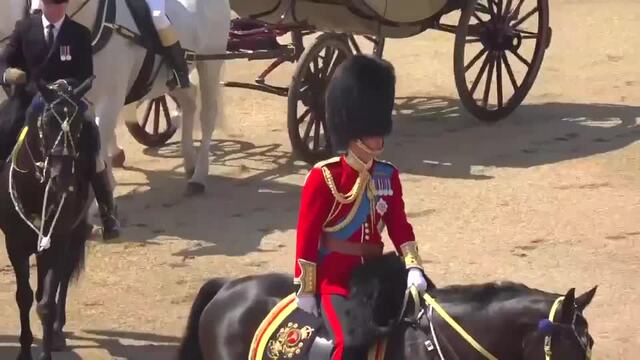 Prince of Wales attends Colonel's Review at Hot Guards Parade
William, Prince of Wales, who was observing the rehearsal on Saturday, tweeted a personal message after the event sharing his personal thanks "to every soldier who took part in the Colonel's Review this morning in the heat.
"Difficult conditions but you all did a really good job. Thank you. W."
To all the musicians playing outdoors in sweltering heat this summer, stay safe out there.