Celebrating Shakespeare: Classic FM presenters read some of his best-loved poems
20 April 2016, 11:55 | Updated: 22 April 2016, 16:13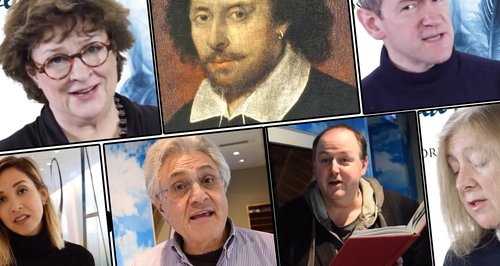 This year marks 400 years since the death of one of the greatest poets of the English language – so we're marking the occasion with a brand new album, 'Shakespeare in Music and Words', and by asking the voices of Classic FM to read some of his greatest lines…
What's a sonnet?
A sonnet is, essentially, a poem of 14 lines and in Shakespeare's case, they usually end with a neat pair of rhyming lines. The great poet wrote 154 of them and they're some of the greatest poems ever written in the English language. They cover topics including love, loss, death, old age, gender, passion, memory and having children.
Alexander Armstrong reads Sonnet No. 116
Let me not to the marriage of true minds admit impediments, a sonnet that became one of Shakespeare's most famous when it featured in the 1995 film adaptation of Sense and Sensibility.
Here's our very own weekend presenter, Alexander Armstrong, reading the gem of a poem:
Myleene Klass reads Sonnet No. 21
Our Smooth Classics presenter reads one of Shakespeare's rarer sonnets…
Catherine Bott reads Sonnet No. 128
This is one of two sonnets by Shakespeare that uses music as a metaphor, as Catherine Bott explains:
I'm very fond of this sensual, saucy sonnet in which Shakespeare describes hearing – and seeing – the object of his love playing the virginals, a Tudor table-top keyboard instrument with a wooden frame whose wire strings were plucked – or "tickled" with plectra called "jacks". The way he writes about "wiry concord", "jacks that nimble leap" and "the wood's boldness" leave us in no doubt about the effect the music's having on him.
Tim Lihoreau reads Sonnet No. 8
Our More Music Breakfast presenter reads one of Shakespeare's music-themed sonnets, this time using harmony as a metaphor for raising a family.
Anne-Marie Minhall reads Shakespeare's most famous sonnet
"Shall I compare thee to a summer's day…"
We're celebrating Shakespeare's words and the great classical music he inspired with a new 2-CD album 'Shakespeare in Words and Music'. Click on the image below to find out more…